Taylor Swift Debuts New Single and New Style
Hang on for a minute...we're trying to find some more stories you might like.
From the top of the Empire State Building, Taylor Swift hosted a Yahoo Livestream, on August 18th, announcing important details about her fifth album 1989. Taylor said she has been working on 1989 for the past two years, and claims it's nothing like anything she's ever released before.  Taylor has always been listed as a country singer, but many people believe that her previous album Red, sounded more like a pop album than a country album. According to Forbes.com, during the livestream, Taylor announced that after releasing four very successful albums categorized as country, 1989 is her first that is officially "pop".
In addition to talking about the title of the album and officially changing genres, Taylor also debuted a new music video and single titled, "Shake it Off." This new single is about all of the hateful things that have been said about her by critics and people on social media. Angela Akumiah ('18) says… "I've never been a fan of Taylor Swift but I think her new song is catchy." The "Shake it Off" music video, directed by Mark Romanek, is very different from any of Taylor's other music videos. Most of her previous videos have shown her telling the story of a relationship gone wrong. However, her most recent one is much more light hearted; it features Taylor dancing in the middle of a group of professional dancers,  ranging in style from ballet to break-dancing.
Only a few days after the release of "Shake it Off," Taylor performed her new single at the MTV Video Music Awards. When she arrived on the red carpet, she was wearing a short jumpsuit that wasn't nearly as modest as the elegant gowns she has typically worn to previous award shows. When it came time to perform, she danced around the stage wearing a silver, shimmery crop top and identical shorts to match. It seemed as if she was changing her style to go along with the change in her music.
As Taylor Swift fans anticipate the debut of 1989, it seems as though most people are simply excited over the debut of the "new" Taylor Swift. With her other four albums selling millions of copies worldwide, we can assume that her fifth project will also be successful as well. 1989 will be released on iTunes and in stores this October and is available for pre-order now.

About the Writer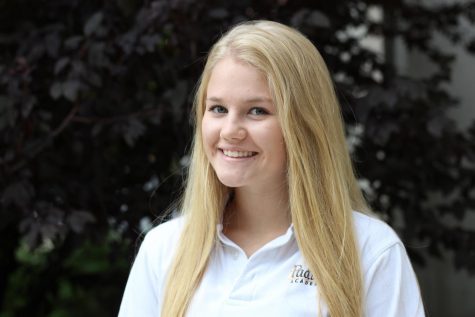 Caroline K., Editor
What grade are you in?

I am a senior at Padua Academy

What is your favorite food?

I could eat Mac and Cheese from Panera every day without...