April the Giraffe
Hang on for a minute...we're trying to find some more stories you might like.
Over the past month, many people have been focused on a giraffe from Animal Adventure Park in upstate New York who is about to give birth. This giraffe, April, is currently pregnant with her 4th calf and is set to give birth any day now. April currently resides in of the Animal Adventure Park in Harpursville, New York, and is 15 years old. April's mate, Oliver, is five years old and this will be his 1st calf. A calf weighs around 150lbs and will grow to be around six feet tall. Animal Adventure Park set up a live video camera to allow people to view April and possibly view her birth. On average, giraffes are pregnant for 15 months, and though the zoo does not know when April was first pregnant, they do expect her to give birth any day now. This will be Animal Adventure Park's first giraffe calf and many people of all ages are excited to see this calf's birth. There will be a contest to name the calf when it is born. You can find the page to vote on Animal Adventure's website http://www.aprilthegiraffe.com/. "I am really excited to see the calf and I may even enter to name the calf," said Niki D. '20.

About the Writer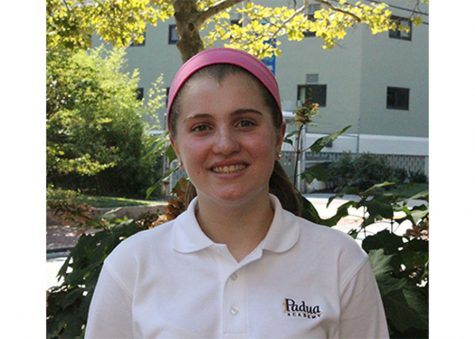 Kelsey E. '20, Staff
Kelsey E. is a determined, confident, and fun loving freshman. Kelsey says that sleeping and socializing with people are easy activities for her. She is motivated by success in whatever she does. Kelsey already knows what she wants for her future, she hopes to graduate from law school, and become a lawyer. Biology is not one of Kelsey's strong subjects but lunch is, by far, her strongest school subject. As a freshman, she is a bit nervous about the work and and says her biggest challenge is procrastinating, but she is determined and strives for the best in what she does. Kelsey likes to usually work independently and she defines it as "to be able to work alone, be knowledgeable, and be a strong person mentally." Kelsey joined the Padua 360 team in hopes of getting to know all of what is going on around Padua. Photography and graphic design are what interest her the most about journalism, so she is very excited to hopefully get a chance to help design the website. Kelsey enjoys reading the stories on Daily Mail, People, ESPN, and BuzzFeed, especially on the Snapchat news feed. She could spend up to an hour just reading the exciting stories especially ones on celebrities like the Kardashians. Kelsey states that if she could be someone for a day she would pick one of the Kardashians because everyone knows them and they have an luxurious life. Kelsey's favorite sport is rowing, and she says that she loves it because that is what she is most passionate about. She is currently on a rowing team and she says that even though rowing sometimes can take up a lot of time she loves it. "Athletes that have gone to college and have been able to pursue their dreams are big role models to me," Kelsey says. She hopes that during her time at Padua she can balance school and sports and still be successful. Athletes are of course not her only role models; Kelsey says that she looks up to many of her family members. Kelsey is very excited to join the Padua 360 team, and she defines a team player as someone who is confident, works well with others, respects, and cheers others on. She is looking forward and is very excited to start her journey at Padua Academy and can't wait to have new experiences.