Freddy's Steakburgers Franchise Owner Gives Students Inside Scoop to the Business World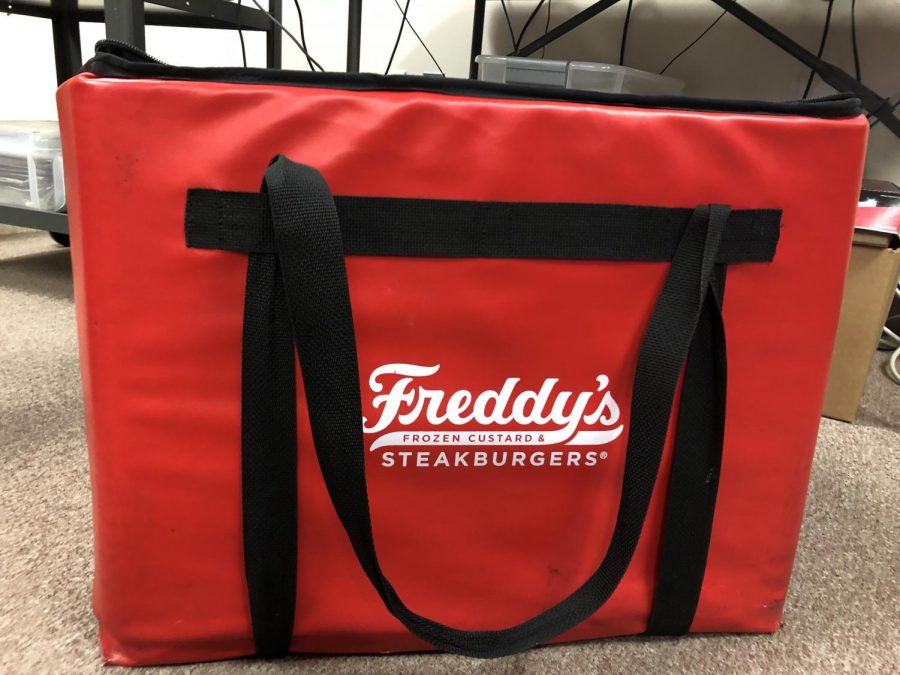 Students have just finished learning about franchises in Mrs. Higley's Business management classes. To get firsthand information, Steve DiMarco, the franchise owner of Freddy's in Broomall and Birmingham Township, came to speak to the class. Along with Freddy's, DiMarco is also the owner of Penn Oaks Golf Club and several other businesses. During his visit, he spoke to the class about his journey with Freddy's, the fundamentals of owning a franchise, how to sell yourself and other good knowledge about the business world.
Freddy's Frozen Custard & Steakburgers is an American fast-casual restaurant originally based in Kansas. Thanks to DiMarco, the Freddy's chain was introduced to the East Coast. The menu at Freddy's consists of only five items: steakburgers, hotdogs, chicken sandwiches, custard and sides. What makes Freddy's stand other from other fast food restaurants is that the food is not precooked, it is made after you place your order. The Freddy's way is "enjoying great food without a long wait doesn't mean your meal has to be cooked before you order it," (freddysusa.com).
DiMarco first came across Freddy's while he was in Kansas for the first time going to a basketball game with his daughter. He had never been to the midwest and did not know the good places to eat. Mistakenly, he had thought they had spotted a Friendly's when actually it was Freddy's. The delicious burger and hospitality of the workers stood out to DiMarco and led to his opening of the first Freddy's franchise on the east coast.
Along with talking about his businesses, he highlighted important aspects of working in the business world. He emphasized the importance that you have to love what you do.
"If you love it you won't work a day in your life," DiMarco said. By doing what you love it will not only keep you motivated but keep you on the path to success. "If you don't get up, get out of your seat, get out of your comfort zone and go get it, it'll never happen."
He explained that with hard work and dedication, anything is possible. Nothing will ever happen by sitting around and waiting for someone to hand it to you.
"The only place that I know where success comes before work is in the dictionary," he said.
Another main point he made was that you have to stand out. He taught the class that the average attention span of a human being is only eight seconds, which is the same as a fish. In eight seconds you have to be able to sell yourself and stand out. This is one of the things he thinks about to better himself as a businessman.
Another tactic he uses to think of ways to stand out is saying, "What's our red leaf, what makes us different." He told a story behind the red leaf and how it came to be an icon to him. His red leaf in the sea of a billion green leaves is his metaphor for standing out from all the competition in the business world today.
Many of the points Mr. Dimarco covered were very inspirational, along with his in depth teaching about the costs and pros and cons of being a franchise owner. Mrs. Higley's business management class was able to relate the information they learned in class to a first hand experience.
About the Contributor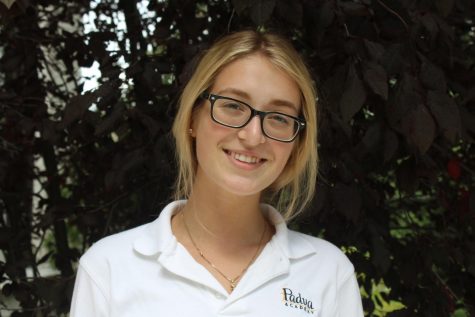 Ava R. '19, Editor
Ava Rudawsky is a senior at Padua Academy. She ran track sophomore year and participated in cheer for two years. Ava has traveled to many places including...