¡Meet Señora Bilbao!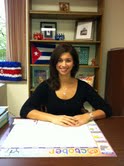 Padua Academy welcomes Mrs. Bilbao, our new Spanish teacher!  She is a Wilmington, Delaware, native and was an only child, raised by a mom, dad, and step-dad. Her parents encouraged her to find a job at an early age, so she started working at Kahunaville at age 15.  While attending St. Mark's High School, Mrs. Bilbao juggled work and school responsibilities.  During her time there, Mrs. Bilbao took her first trip to Spain with her classmates.  This experience instilled in her a passion for Spanish culture.
After that, Mrs. Bilbao made up her mind to be a Spanish teacher.  She began her journey toward becoming a teacher during college, as a student teacher at Dickinson High School.  She completed her college years with a BA in Spanish Education, and an MA in Spanish Language and Education from University of Delaware. While in college, Mrs. Bilbao spent a semester in Costa Rica, where her love for Spanish language and culture deepened.  Mrs. Bilbao has taught at University of Delaware, Archmere Academy, Liverpool Language Academy in the United Kingdom, and currently Padua Academy.  She and her husband both worked in Liverpool when they moved there in 2006.  After her husband completed his Ph.D. in Spanish Literature, the couple moved back to the US in August 2011.
When she was gone, Mrs. Bilbao missed her friends, family, and two cats.  Now she spends her weekends with them as much as possible, doing activities such as cooking, exercise, and yoga.  She and her loved ones also watch movies together, including Mrs. Bilbao's favorite, The Shawshank Redemption.  Even though she enjoys being home, she also wants to travel more.  Mrs. Bilbao would put this at the top of her bucketlist, along with being a mom and learning French.  Mrs. Bilbao is a very interesting, adventurous, and friendly person who would love to have a conversation with anyone, in English or Spanish!