Activity Fair
Hang on for a minute...we're trying to find some more stories you might like.
About the Contributor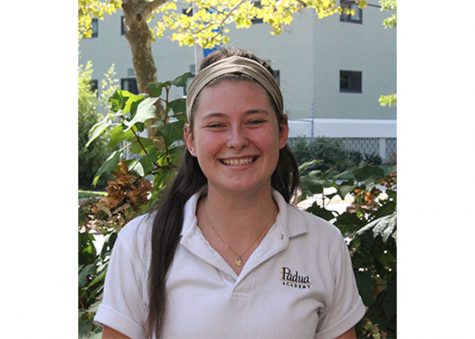 Faith H. '17, Multimedia Editor
You will never meet a person who is as energetic as a puppy that drinks red bull, while at the same time as sleepy as a sloth. Faith H. is a senior at Padua Academy and is commonly mistaken as a freshman due to her limited height, and super excited to be apart of Padua360. Faith looks over all the videos and images put onto the news site and enjoys editing and creating videos. She can  sit for hours at a computer, having a grand ole time creating videos. Not only does she love to compile videos but she gets emotionally invested in watching tv shows and movies. She can be heard from the other side of a building with her booming voice screaming at a tv screen. She can also be heard terribly singing all the wrong words to any song which is "normally" followed by horrendous dance moves. Not only does Faith have a loud mouth, but she is very sarcastic and full of witty comebacks. Growing up in a gigantic family that only roasts each other when they speak she had to learn to think fast to protect herself. Despite the fact that Faith carries around a water bottle that reads "the struggle is real", she always looks on the positive side and tries to brighten up someone's day. One day Faith hopes to travel the world to create a heart squeezing movie that makes you scream at the screen. As for now, she lives in the moment enjoying her final year of high school with her phenomenal best friends and wacky family.