Spring Track and Lacrosse Tryouts
Hang on for a minute...we're trying to find some more stories you might like.
As the end of the winter season nears, athletes prepare to start up spring sports again. Track and lacrosse are two of the many spring sports for the girls at Padua.
The lacrosse program is approaching its second season here as a Padua team. The lacrosse team was started here at Padua by a senior petitioning for a team in the 2013-2014 school year. Lacrosse was only able to compete on a junior varsity level last year due to the program being brand-new. Lacrosse finished their season with five wins and only one loss, making many improvements throughout the season. The coaches have high hopes for this season. "My expectations for this season is to compete with a varsity and junior varsity team," coach Amber Harmon says. The coaches are hoping that the girls will be excited to learn and become a family. Coach Harmon's overall expectation is to have a successful season and to compete in their first state tournament ever. The coaches believes that it is very important for lacrosse to grow as a program for future seasons.
The track program is eager to get out there and defend their state champion title. The outdoor track team has won five state champion titles with their Coach Marnie Giunta. Their biggest competition this season will be Smyrna and Caesar Rodney. Coach Giunta says, "Smyrna is as well rounded as Padua but I do feel that we will be heavy favorites to win again this year." Coach Giunta went on to say that she never expects to win any state champion title. The spring season is long and anything can happen between March and May. Coach Giunta hopes that her team will adjust to what the season has in store for the girls. The girls need to focus on being healthy and in their prime in May. The coaches will work the girls very hard to make sure they are at their best. One of the benefits of joining the track team is that it is like a family, everyone respects and helps each other along the way.

About the Writer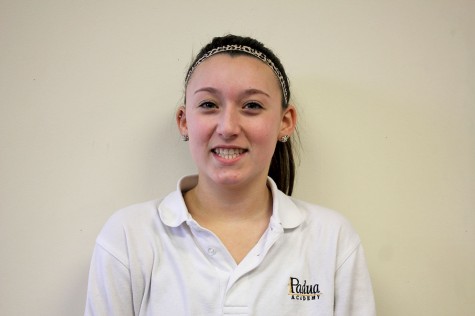 Emily B., Reporter
Emily Balestrieri is a Sophomore at Padua Academy that runs cross country and track. In her free time, she enjoys cooking and baking.