Crew: An Inside Look
Hang on for a minute...we're trying to find some more stories you might like.
Padua Academy offers a variety of sports for the students, but one sport that doesn't receive as much attention is crew. Even though Padua doesn't have a crew team, it does recognize that it is a sport and many girls row at the Newport Rowing Club. Although, what goes on in crew may be unknown to many.
Practice during the winter season is mainly conditioning and they go on the water during the spring. Practice is 5-6 days a week, depending who's on the novice or varsity team. Padua sophomore, Gina Hobbs, who rows for Newport, talked about what it was like rowing for the first time.
"I took about a week before I got the hang of things. I still had a few "off" days, but that's completely fine too!" she said, "The team aspect appealed to me the most about crew. I wanted to start something new, that I had no experience with. It was a great feeling to go in blindly with something and slowly get better and better at it," Gina said, "It is very unique in the sense that you must work completely as a team. If one person isn't performing at their best, the whole boat is off. You must be fully committed to your crew and work your hardest!"
In crew, rowers compete at races called regattas. Gina said, "Regattas are very fun! It is a little like cross-country, where you have a scheduled event, but stay there to see your teammates compete as well."
Gina said, "I would tell anyone who wants to row or is hesitant, it is a very cool sport. If you are not sure, try it! You never know if you will enjoy it or not unless you try!"

About the Writer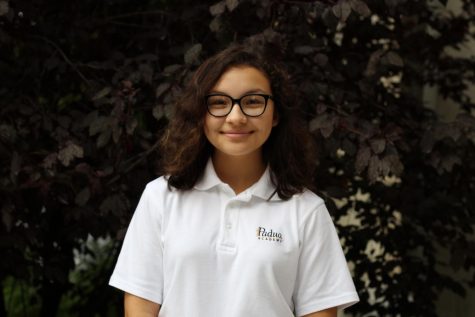 Jennifer C. '21, Reporter
What grade are you in?

I am a freshman at Padua.

What is your favorite food?

My favorite food is pretty much all kinds of sweets and baked...