Padua vs. Archmere Field Hockey Big Win
At the first game of the season, Padua's field hockey team won against Archmere 1-0 at Forbes Field on September 20.
Starting goalies were Shannon McCormac '20 from Padua and Maura Smeader '21 from Archmere. Starting the game, Archmere came out strong from the tip off, pressuring Padua early. Padua got the ball back quickly from Archmere and got their first corner.
This corner was ended once a penalty from Padua was called and the ball was taken out of the circle. Padua got the ball back causing the second corner, but once again Padua got a penalty resulting in Archmere getting the ball back.
After an excellent defensive clear, Padua got a third corner where senior Aliya Curran scored by tipping a ball driven by Riley Hickox '20. Archmere started at the half again, and Padua got the ball once again getting a corner. Senior Caitlin Stoddard shot the ball and caused a corner. Archmere had few breaks where Padua's defense had to touch the ball.
The defenders, Caitlin Stoddard, Lauren Owens '20, and Jenna Brady '20 all had good clears whenever they touched the ball. Archmere got a break, and McCormac blocked the ball from Lauren Ross. A corner was called against Padua, and they got it out, but another foul was called resulting in another corner.
Stoddard got the ball out to Grace Mercer '20 to clear the corner. Mercer got the ball to Anna Getty '21 and got a foul in the circle causing a circle. Hickox shot the ball from the corner, and Angela Taglione '20 defected it out. Another corner occurred, but the Archmere flyer was fast and blocked it.
Padua had a very long preseason and was ready for their first game. "I'm really proud of the team for getting through their first win of the season after the longest preseason we've all ever been a part of," said head varsity coach Paul Zelenak.
Many Padua field hockey players are excited for this start of the season. "It was a good start to the season, even though we started a little later than usual. We worked well together as a team, and I'm really excited to see us improve this season!" said Owens. The teamwork was a key factor in the game for Padua. "We really connected as a team and converted on scoring opportunities," said Stoddard.
About the Contributor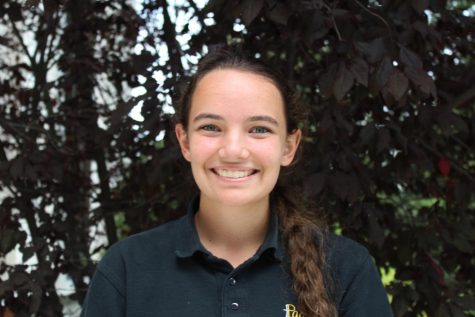 Maddy H. '21, Reporter
Maddy is a sophomore at Padua Academy. She was born on September 30, 2002. For middle school, she went to Immaculate Conception School in Elkton, Maryland....