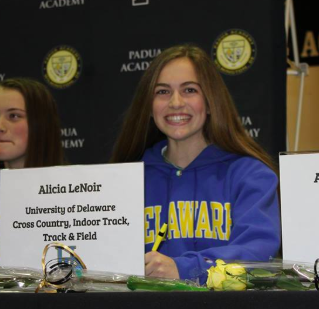 Samantha Scarpone
Alicia LeNoir: Division I Athlete
University:
University of Delaware
Major:
Fashion Merchandising
Sport:
Cross Country and Indoor/Outdoor track
What made you want to play a sport in college?
"I really developed a love for running when I came to Padua and love my team here. I would love to continue this in college!"
What would be a successful season for you?
"For me a successful season would be accomplishing my goals with my team and having fun while doing it!"
Sports in college are a lot more competitive and time consuming than in high school, how do you plan on balancing it with school work?
"I plan on balancing school and athletics by managing my time well and setting up a schedule that will be flexible with my practices."
What are you looking forward to the most in college?
"I am really looking forward to seeing what running will be like in college, meeting new people and being in a new environment!"