Swim Meet 1/8/20
Padua's swim team faced Appoquinimink High School this past Wednesday at the Walnut Street YMCA in their first meet since December 13. They were able to clinch a 106-64 win over Appoquinimink girls' team.
Riley Robertson, a freshman on the team said, "I was really happy with how it went. I think everyone did their best."
At the start of the meet, the Jaguars came out strong with a win in the 200 Medley relay, with a senior, Emma Forman doing the backstroke portion of the event. Later in the meet, Forman beat out the competition in both the individual medley and the backstroke.
After the opening events, Padua went on to dominate in the following events, with five consecutive first places beginning with Maddie Testa winning the 50 freestyle. Testa, a freshman, went on to win the 100 meter with a time of 55.81 seconds.
Testa, said, "I was pretty proud of myself and the rest of the team. We all work pretty hard, so it feels really good when it pays off."
Padua used their deep roster to cushion both their wins and losses with second and third place finishes. So even though they didn't win every single event, they still got some points for each one.
Anna Kelly, a senior who swam the 50 freestyle, said, "I go to practice everyday put a lot of work in, so it's fun to be able to compete against other people who I know also work really hard."
Megan Speicher, a junor led the team to their win by passing the Jaguars in both the 200 and 500 freestyle events.
Padua closed out the meet with a win for the 200 freestyle relay team that included Emily Murphy, Sandy Janton, Hannah Schulke, and Testa. "We were kind of nervous before, but it was really fun and we ended up doing well, so I was really proud of everyone.
About the Contributor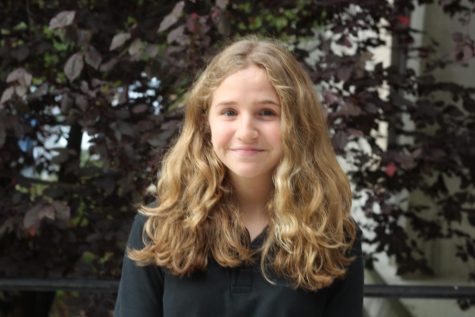 Bella P. '23, Reporter
     Bella is a freshman at Padua Academy. Her birthday is November 2, 2004 and she is from Northeast, Maryland. Before coming to Padua, she went to...