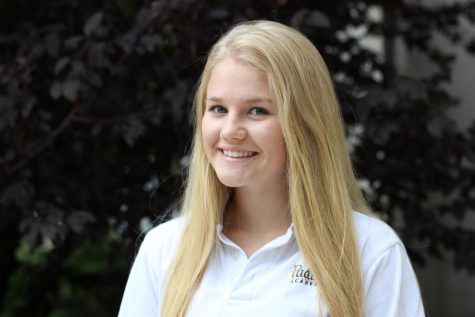 What grade are you in?



I am a senior at Padua Academy



What is your favorite food?



I could eat Mac and Cheese from Panera every day without ever getting sick of it.



What is your favorite type of music?



I have a very eclectic music taste and have been to a myriad of concerts ranging from country to alternative, and everything in between.



Why are you taking journalism?



I'm taking journalism because I have always loved writing and storytelling. I hope that through leading this class I can help others learn to love it as well, all while enhancing their own writing skills.



What is the best advice you've ever received?



The best advice I have ever received is to always give people the benefit of the doubt.



Caroline K., Editor
Feb 01, 2018

State of the Union 2018

(Story)

Jan 19, 2018

Philadelphia Eagles Prepare to Fly in NFC Championship

(Story)

Nov 23, 2017
Nov 03, 2017
Oct 13, 2017
Oct 13, 2017
Jan 16, 2015

"A Longwood Garden Christmas"

(Story)

Dec 20, 2014

Ronald's Rescue Pancake Breakfast

(Story)

Dec 04, 2014
Nov 25, 2014

Traveling: A Thanksgiving Trend

(Story)

Nov 11, 2014

Top 10 Songs from the Late 90's and Early 2000's

(Story)

Nov 01, 2014

Best Horror Movies for this Halloween Season

(Story)

Oct 30, 2014

Keep Those Lockers Closed!

(Story)

Sep 29, 2014

Padua Cheerleaders Set the Bar High for this Season

(Story)

Sep 29, 2014

Ed Sheeran Plays Sold Out Show at Wells Fargo Center

(Story)

Sep 09, 2014

Taylor Swift Debuts New Single and New Style

(Story)