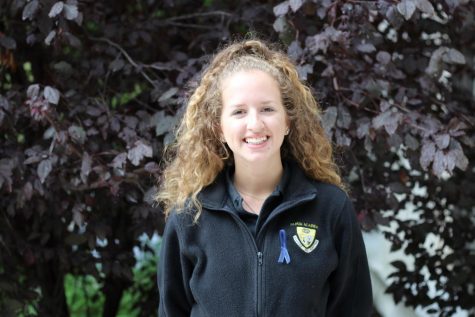 What grade are you in?
What is your favorite food?



My favorite food is sushi, especially at Lily's Asian Cuisine in Kennett Square, PA (on Tuesdays for all you can eat, of course). I'm really not that picky when it comes to food though so I'll eat almost anything that's put in front of me; I'd definitely be okay living off of only ice cream and salad for the rest of my life though.



Favorite music?



I pretty much like any type of music, but I would probably say I listen to alternative the most. I'm a singer and I play four instruments so music is a huge part of my life. I'm also friends with a bunch of people that are already in the industry (and getting pretty well known) so it's safe to say that at any time of day, I'm probably listening to music.



Why are you taking journalism?



I'm really interested in communication arts and am thinking of taking it up as a minor in college, which is why I thought journalism would be a perfect fit into my schedule. I've always wanted to do into something in the multimedia field, so this is definitely a great choice for me.



Best advice you've ever received?



The best advice I've ever received is to try everything at least once because you'll never know what you might have missed out on if you don't.



Dani F. '18, Reporter
May 14, 2018

First Annual APS Padua Project

(Story)

May 12, 2018

From Derry to the World: Roma Downey

(Story)

May 12, 2018

An Evening of the Arts

(Story)

Apr 17, 2018

The Philly Zoo Experience

(Story)

Mar 05, 2018

French Film Festival 2018

(Story)

Feb 10, 2018

How to Avoid the Flu

(Story)

Feb 09, 2018

Valentine's Day Gift Ideas

(Story)

Jan 29, 2018

Beating Senioritis

(Story)

Dec 28, 2017

Teacher Profile: Mr. McAteer

(Story)

Dec 27, 2017

El Diablo: Location Reviews

(Story)

Dec 10, 2017

Padua Students' Favorite Christmas Movies

(Story)

Nov 26, 2017

Black Friday vs Small Business Saturday

(Story)

Oct 30, 2017

New Teacher Profile: Dr. Bozanic

(Story)

Oct 30, 2017

Questions to Ask on a College Visit

(Story)

Oct 24, 2017

Why I Love Concerts

(Story/Media)

Oct 22, 2017

Legal Shadowing Speaker #1: The Honorable Andrea L. Rocanelli

(Story)

Oct 17, 2017