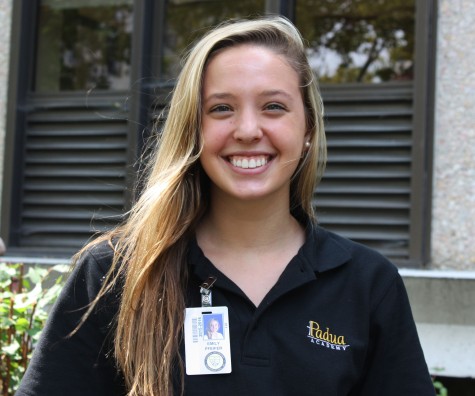 It's that time of year again. Thanksgiving rolls around and all her family members are so excited to see her for Thanksgiving break. She's been away at college since August and they want to know how it's going. But wait, if we're all still in high school, why are we talking about college? Jump back a few years and that same girl is currently a junior. Emily P. '17, an aspiring swimmer, is a junior here at Padua Academy. Most juniors are feeling pressured by parents and teachers to choose a college quickly. Even some have their whole college experience planned out. Yet Emily doesn't know where she wants to go. "I would like to go somewhere south, for sure. Probably one of the Carolinas," she says. At least she has some ideas for her future school. But even though she doesn't really know where she'll end up, Emily fears that she won't get into a good college. However, with a résumé like hers, Emily should be just fine! She has commitments to Blue Gold, is an excellent swimmer, and achieves good grades.  
Emily wants to major in elementary education at college. "I love kids, so I want to teach fifth graders. I feel like I would be able to hold an actual conversation with them," she states.

Speaking of having it easy, Emily would love to spend a day in Kourtney Kardashian's shoes. She's got the fame, the money, and you can't forget her adorable kids. Kourtney is part of the very well known Kardashian family. You often see their faces on magazines. "Magazines are my favorite type of media, especially
People
magazine," Emily says.
With a passion for Nicholas Sparks books, reading, writing, and the news, Emily knew that Multimedia Journalism was the perfect elective for her. Of course, having Mr. Leizear as a teacher definitely influenced her decision.
As an avid swimmer who is on the Padua swim team, she would absolutely love to live in Hawaii or Fiji. "Living there," Emily comments, "I would have easy access to the ocean and beaches." She still remembers when she succeeded in making the cut to swim in a prodigious swim meet in Florida. All in all, Emily Pfeifer is an easy-going swimmer. And even though she doesn't know where she'll go to college in two years, she is confident that Padua Academy can help her achieve her many goals and dreams.
Written by Cassidy M. '19
Emily P. '17, Writer
Mar 28, 2016

Living Vegan and Vegetarian

(Story)

Jan 07, 2016

Five Questions with Mr. Stopyra

(Story)

Nov 09, 2015

Piri Piri New Restaurant

(Story)

Oct 24, 2015

Students in Action Take Action in the Community

(Story)

Sep 25, 2015

Padua Students Begin Another Year of the APS Program

(Story)