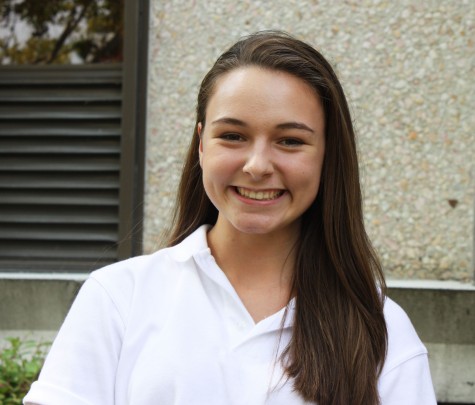 Being a very optimistic and young independent girl, Rachel B. '18, is a 16 year old sophomore. She is a friendly, unique, and dedicated student that everyone should get to know. Rachel loves to hangout with her friends when she's not in school; however, when she is in school she enjoys focusing on her schoolwork and doing her best. Rachel not only likes to be forward and to the point, but she is open-minded and doesn't know what the future holds for her.
Keeping her options very broad and still exploring, she hasn't figured out what's in store for her life.  Some of her fears are spiders, dark rooms and storms; whereas, some of her hopes and dreams are being happy and successful in life and having lots of money or fame. Rachel loves all types of music because she states "that different music suits different moods, and I like to keep my choices open." She says if she could choose any superpower in the world, she would want to have mind reading because she would like to know what people are thinking. Her favorite animal is a white tiger.  Something  that's very distinct about Rachel is that she doesn't prefer a favorite color and likes all colors of the rainbow, but if she had to make a decision she would pick black. Rachel used to do cheer as a child but stopped because of injuries so in her free time she likes to hang with friends.
Rachel is the type of girl that will always help you with your problems and if you need someone to talk to, Rachel is the girl to go to. She loves listening to people and giving great advice. She will let you rant about boys, or girl drama, or just your family issues, for hours and hours and she'll still be engaged in the conversation. She promises when you are done, you won't leave feeling down about yourself, but rather better about yourself. She believes that her greatest authority is helping her friends in being the best she knows they can be and along with that comes a lot of responsibility. Rachel explains that her thoughts of quality are "the value you see in someone or something that you care about." Rachel is an overall fun, interesting, young girl just being her and doing what every teenage does, living life to the fullest.
Written by Bailey T. '17
Rachel B. '18, Writer
Nov 16, 2017

Padua Media Group Takes on D.C.

(Story)

May 22, 2016

Signor's Big News

(Story)

Dec 23, 2015

Welcome to Padua Mrs. Houseal!

(Story)

Dec 20, 2015

6 Questions With Mrs. Buchanan

(Story)

Nov 06, 2015

Halloween Costume Contest 2015

(Media)

Oct 27, 2015

Student Ambassadors: Shadows

(Story)

Oct 19, 2015

Powerful Player: Emily Jarome

(Story)

Sep 29, 2015

Miss Bishop Comes to Padua

(Story)