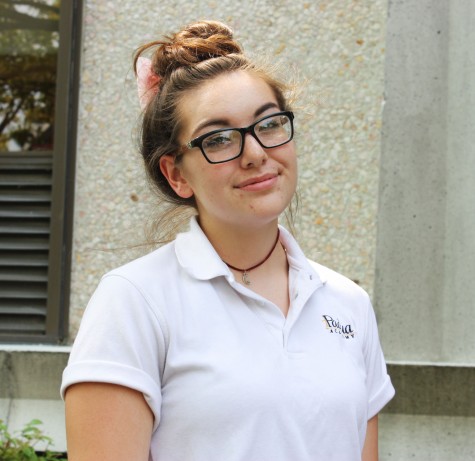 Sarah T. '17, a junior at Padua Academy, is in no way related to One Direction band member Louis Tomlinson (although she did pretend to have a British accent freshman year to trick her classmates).
As a junior, Sarah actively participates in Color Guard for the Salesianum marching band and Blue Gold, an organization that helps kids with cognitive disabilities. "I just love helping those kids and putting smiles on their faces." One of her biggest successes at Padua was never dropping her flag during the marching season at games last year, only to fall short and ruin her streak while in competition.
When she's not partaking in many activities, writing comes very easily to Sarah. Given any prompt, she'll be able to crank out an essay for a literature class like it's no problem at all, but it may take her some time to memorize a couple math formulas. She is really looking forward to traveling to Italy with her Italian class later this year as well as one day going backpacking around Europe. Sarah also loves photography and is interested in taking pictures for Padua360 and writing about them. When at home, Sarah will sometimes take her camera and go out to look for weird or cool things to photograph, practice with her flag for Color Guard, or just scroll through her Tumblr dashboard or her Twitter feed, most likely losing track of time. In fact, the other day she was scrolling through Tumblr at ten at night only to hear her alarm go off for school at five. How she got through the day from there is a complete mystery.
Sarah loves to listen to music, preferably alternative artists. Among those artists are Fall Out Boy, Twenty One Pilots, Halsey, Panic! At The Disco, and Paramore. One of her absolute favorite music artists is an acapella group called Pentatonix that won the third season of The Sing Off competition on NBC in 2011, and she has been following them ever since then. One of Sarah's favorite movies just so happens to be a musical as well. The musical
Heathers
stars Winona Ryder, one of her favorite people of all time, in a dark comedy dealing with high school drama. "The [musical's] entire soundtrack is on my phone. It's such a jam." Sarah looks up to Nicki Minaj and Beyoncé because of their confidence, for being such strong supporters of feminism and for being an inspiration to their fans. In fact, Sarah would love to be Beyoncé for a day, though honestly who wouldn't, just to know "what it's like to be that confident and self aware."
From helping young kids to twirling and catching flags and pulling accidental all-nighters from being on the Internet, with a trip to Italy approaching, Sarah T. '17 is living the ultimate high school experience.
Written by Lauren M. '19
Sarah T. '17, Writer
Apr 20, 2016

Padua Goes to Padua

(Story)

Mar 15, 2016

Till It Happens to You

(Story)

Mar 06, 2016

Hamilton's Nonstop Rise to the Top

(Story)

Feb 25, 2016

Coldplay's Cultural Appropriation

(Story)

Feb 03, 2016

Coloring vs Stress

(Story)

Jan 23, 2016
Jan 05, 2016

"The Last Good Movie I Saw" – Emily Gray

(Story)

Dec 13, 2015

Who Lives, Who Dies, Who Tells Your Story?

(Story)

Nov 28, 2015

"Eat Bread to Raise Dough"

(Story)

Nov 22, 2015

Justin Bieber's New Album

(Story)

Nov 09, 2015
Nov 01, 2015

Fall Encounter 2015

(Story)

Oct 22, 2015

Encounter 2015 Preview

(Story)

Sep 29, 2015

"I Just Kind of Fell Into It"

(Story)