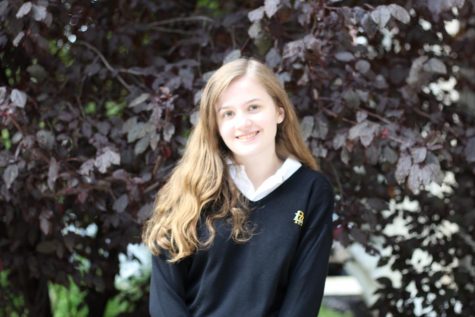 What grade are you in?



I am a junior at Padua Academy.



What is your favorite food?



I'm partial to most carbohydrates, especially pasta.



Favorite music?



I primarily listen to indie music such as M83 and Sigur Rós.



Why are you taking journalism?



I've always had a love for writing, especially non-fiction writing. When I was younger I desperately wanted to be a journalist, so I'm excited to live out that dream in this class.



Best advice you've ever received?



I was once told to never dumb myself down for anyone. In other words, don't hide your talents from anyone and don't be afraid to show others the intelligence you possess.



Stella W. '19, Reporter
May 28, 2018

A Look into AP Lang

(Story)

May 12, 2018

The Iran Deal: What It Is, and What It Means for the World

(Story)

Apr 30, 2018

Penny Wars: A Cause That Makes Cents

(Story)

Apr 30, 2018

The Last Community Homeroom of the Year

(Story)

Apr 20, 2018

Padua Community Gathers to Remember Father Nicholas Waseline

(Story)

Apr 17, 2018

The Philly Zoo Experience

(Story)

Apr 16, 2018

Stations of the Cross: Photo Gallery

(Story)

Mar 15, 2018

The Benefits of a High School Theatre Program

(Story)

Mar 02, 2018

Jackie Knotts: Athlete Profile

(Story)

Feb 27, 2018

The Hectic Weeks of Course Selections

(Story)

Feb 27, 2018

Padua Performs "The Addams Family"

(Story)

Feb 19, 2018

French Club Celebrates Mardi Gras: Photo Gallery

(Story)

Feb 09, 2018

Padua Dance Team Performs at Pep Rally

(Story)

Feb 06, 2018

Padua Competes in Academic Bowl Final

(Story)

Feb 06, 2018

Hungry Pandas Cake Decorating Contest: Photo Gallery

(Story)

Feb 01, 2018

Paige Kenton: Athlete Profile

(Story)

Jan 30, 2018

Athlete Profile: Lauren Mottel

(Story)

Jan 19, 2018

Philadelphia Women's March 2018: What To Expect

(Story)

Dec 28, 2017

How Padua Students Personalize Their Look

(Story)

Dec 16, 2017

Coco: Another Masterpiece from Pixar

(Story)

Dec 16, 2017

Padua Practices Public Speaking

(Story)

Nov 12, 2017

New Teacher Profile: Ms. Gaynor

(Story)

Nov 12, 2017

Padua Juniors Participate in History Day

(Story)

Oct 30, 2017

Padua Academy Attacks Academic Bowl

(Story)

Oct 24, 2017

The Threat of North Korea: What Do Students Think?

(Story)

Oct 22, 2017

Padua Students Experience the PSAT

(Story)

Oct 17, 2017

An Overview of Current World Leaders

(Story)