The Freshmen's First 1st Quarter
Hang on for a minute...we're trying to find some more stories you might like.
With Halloween only days away and the first quarter complete,  Padua Academy freshmen can now reflect on their first quarter of high school.  A new and bigger school can be a difficult adjustment for freshmen. The confusion begins as the Class of 2019 try to figure out the schedule. "It definitely takes some getting used to," freshman Sarah Jane says. Freshman Emma Gruskiewicz wholly agrees, "I would rather have eight periods a day like almost every other high school. Changing cycles each day is definitely confusing and I don't like not seeing my teachers everyday," she begins. "I'll forget things and it feels like I've been given permission to not do my homework right away because I have the extra day."
Despite this, she says that she is still performing well in classes. "My grades are good, but I've never had to study really hard before, so that's a new experience. Sometimes it's overwhelming and I think it's a challenge for freshmen, especially, to be strong enough to ask for help from teachers."The difference from grade school to high school is prominent", Sarah Jane says, like Emma. "The workload is exponentially greater, but the problems are similar to those I've seen before. However, they're more cognitive than just jotting down answers."
Although everyone at Padua has heard of the four S's, Spirituality, Scholarship, Service, and Sisterhood, many have not heard of the fifth 'S'. Emma says that 'Structure' should be the fifth 'S' because that is the word that comes to mind when she hears 'Padua Academy'. Freshman Ally Stuebing feels as if she has already grown in all of the building blocks of Padua. Ally says, "I've definitely already made a lot of strong friendships and I went to a Catholic grade school, so I feel as if the level of spirituality here is what I am already accustomed to, which is a great thing."
She continues by saying, "Service is more than just a requirement. Recording my service makes it seem realer, so to speak. It lets me know how much I've done for my community and at Padua." And while a scholarship is money to pay for your tuition, Ally believes that it's really about learning and growing in your academics. "The teachers also help with that. Mr. Cross, my Honors Literature teacher, has already helped me grow substantially in my writing." Sarah Jane agrees, saying, "I love all my classes and teachers! The teachers are great, and they expect a lot out of you so they push you to do your best."
Even though the four S's are an important aspect of Padua, so are the athletics. Emma mentions that she's learned that teamwork is much more important that winning. "Keeping a positive attitude is key to being able to work as a team," she continues. As a Padua cheerleader for the Sallies football team, she knows that keeping a smile on your face can make everything better. Ally also talks about her life as a student-athlete. "Volleyball practices and games have kept me structured in homework and studying. While I'm not the most motivated person, being busy with volleyball pushes me to get my work done on time so I can enjoy the sport I love."
With two months of school complete, the Class of 2019 has had plenty of time to adjust and get know their classes and teachers. Of course, the help of Big Sisters played an important role. "My Big Sister gives me an opportunity to meet the different aspects of Padua. I know I've always got a friend I can rely on," Ally says while talking about the Big Sister/Little Sister program. "Big Sis'/Lil' Sis' program: yay or nay? Yay to the 1000th power!" she exclaims. "I love my big sister so much! We're both different in our own way but similar at the same time.  She'll pick me up when I'm down and we've become friends, not just a 'Big Sister' and a 'Little Sister'."

About the Writer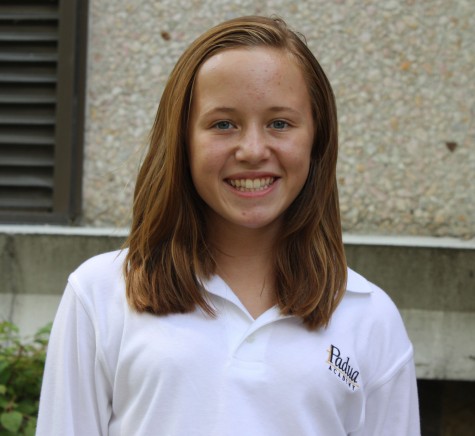 Cassidy M. '19, Reporter
     Cassidy M. '19 maybe a freshman in high school, but there are reasons to believe she could be a freshman in college.  "I have wanted to go...