5 Questions with Sydney Kenton
Hang on for a minute...we're trying to find some more stories you might like.
Sydney Kenton is a freshman here at Padua Academy. She is a member of Padua's chorus, a member of the Footloose cast, and has also recently been accepted into the Delaware All-State Senior Chorus, making first chair in Soprano I. Sydney also played volleyball for Padua this past fall, but most of her time is being spent working on the winter musical and All-State. Sydney answered these five questions, allowing us to get a glimpse of what it is like to grow up with a musical background.
Why did you decide to go to Padua?
I decided to go here because the academics were really great, and I loved the community of girls here. I also wanted to take part in the music department here at Padua.
How long have you been into music and performing?
I have been into music and performing since kindergarten. I was in a musical called The Lion and Mouse, which was based off the famous [Aesop] story of the same name. I played the giraffe.
Do you ever get nervous before a performance? If so, what do you do to relax?
When I was younger and less experienced, I would get very nervous before performances. It would feel like my throat was as dry as the desert and my stomach was filled with butterflies. I wouldn't really have a way to deal with all the stress, so I'd just kind of give up on trying to relax and jump out on stage. However, as I started performing, the nervousness would fade away and I'd feel comfortable on the stage. Nowadays, I don't really get nervous at all. It's just another performance and nothing to worry too much about.
What's your favorite kind of music to listen to and why?
My favorite kind of music is alternative. I love alternative because the alternative music I listen to combines two genres that I grew up listening to: hard rock and pop music. My dad would listen to hard rock music every time I was in the car with him. I listened to pop music that my friends introduced me to throughout elementary school. I liked aspects of both, so I tried to find something that had both. I found some alternative groups, and I fell in love.
Who inspires you?
My parents. They didn't exactly have the perfect life when they were growing up, which shaped them to be the amazing parents they are today, in my opinion. They're extremely hardworking, and they always put my sisters and me first. They motivate me, laugh with me, and even cry with me whenever I need it. Without their motivation and encouragement, I don't think I would be in such a great school and so far in my musical career as I am now.

About the Writer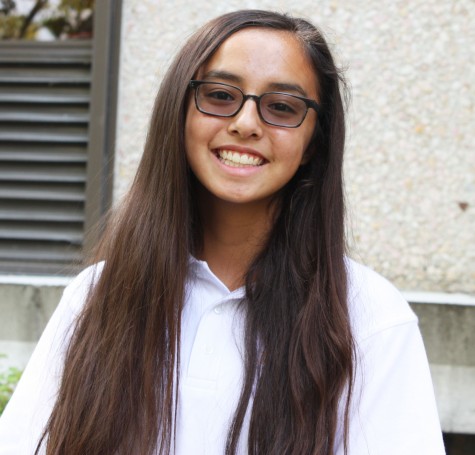 Lauren M. '19, Writer
     Lauren M. '19, a freshman, is an aspiring writer who joined the Padua360 team in hopes of branching out to get to know more people. She also hopes...