New El Diablo Location in Pike Creek
Hang on for a minute...we're trying to find some more stories you might like.
On cycle seven days, Padua students usually travel to a popular restaurant named El Diablo, located in Trolley Square. As well as being located in Trolley, there is a location in Newark and North Wilmington. Recently, the local Tex-Mex restaurant announced a new location in Pike Creek. The new establishment is in The Shops shopping center, taking over the space that Berry Yummy occupied. "I'm very excited about the new El Diablo opening up in Pike Creek", says Abbey H. '17. "El Diablo is my favorite Mexican restaurant, but all the current franchises are so far away from my house". This will be the fourth El Diablo in Delaware since its founding in 2010 by partners Roger Andrews, Dean Vilone, and Shannon Stevens.
The new location is on Limestone Road, just at the intersection at Paper Mill Road. Along with popular restaurants already established in the Pike Creek area such as Anthony's Coal Fired Pizza, McGlynn's, and Soybean Asian Grille, El Diablo will be joining a wide variety of places to enjoy. "With the opening of the new store in Pike Creek, I will be able to get to El Diablo easier and more often then I could before", says Abbey. Padua students are eagerly awaiting the arrival of the restaurant which is set to open in late May.

About the Writer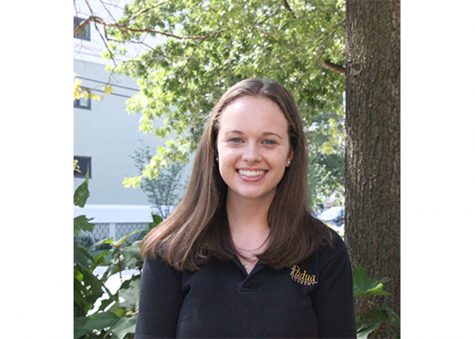 Katie M. '17, Managing Editor
Wherever there is Chinese food and a good laugh, most likely Katie will be there with a camera. With a passion for photography, she is very excited to be managing editor for the 2016-2017 school year. Since freshmen year, Katie has been actively involved in the Communications department, and has worked her way up from staff to editor. "It's one of the highlights of my senior year," says Katie. "I've been writing and taking picture since as long as I can remember and I can' think of a better way to end my last year at Padua." She has been on journalism staff and yearbook staff, jobs she said she has thoroughly enjoyed. "Both classes have helped me discover photography as a hobby. I've always preferred being behind the camera than in front of it. Katie plans to attend college located somewhere in Baltimore, and major in Business and Spanish. Currently, she works two jobs, and both teach her valuable lessons in the business world such as customer service, operating a business, and catering to customers and their needs. When asked what she does in her free time, Katie responded "I'm a huge art nerd. I discovered this passion around sophomore year. Some of my favorite artists are Monet, Degas, Van Gogh, and Cassat". Katie continues by saying "Padua has definitely become a part of me. I've discovered a lot about myself in these past four years. The thing I'm looking forward to most this year, is making friendships in many classes and spending one last year with my Padua sisters".