Beating Senioritis
Hang on for a minute...we're trying to find some more stories you might like.
Senioritis is something that everyone hears about throughout high school, but never fully experiences until reaching senior year – mainly the second semester. In simple terms, senioritis is when a student "checks out" of school senior year, having little to no motivation left to continuing trying hard. Although not completely unavoidable, it's safe to assume that almost every senior in high school goes through this at some point during their last year. Senior Marigrace Ferrill says, "Honestly, I thought that senioritis was kind of just a myth. Of course seniors are tired of being in school, but I never imagined how tough it really would be. I am so ready for this school year to be over and it's only the beginning of the second semester."
"
Keeping yourself positive is always the best way to go."
— Amber Owens
For any underclassmen scared of falling into the rabbit hole that is senioritis, here are some tips to avoid it from current seniors:
"Take some time for yourself every once in a while! Don't just start skipping school 'because you can', but if you

need

to take one day off to take care of yourself, don't be scared to." – Elizabeth Hennessy

"

Take some time for yourself every once in a while!"

— Elizabeth Hennessy

"Try not to worry too much about everything going on, keeping yourself positive is always the best way to go." – Amber Owens

"Remember that college can always take back your acceptance so you need to stay on top of your game all year!" – Julianna Cann

"Don't push off your work because 'it doesn't matter anymore,' even if it doesn't matter, it's still important to do your work so you don't fall too deep into the hole." – Emma Spadaccini

"Just get out there and do it! Power through and it'll be worth it!" – Caroline Bursler

"I literally have no advice, good luck next year juniors." – Lily Moon
Teachers and guidance counselors have seen seniors go through this every year, giving them a completely different perspective on it. Here's some advice from current Padua teachers about senior year:
"It's all about your character. You should be able to look back on your senior year and have pride in what you did." – Mr. McAteer

"Do your job and finish strong." – Mr. Sheehan

"Work hard." – Ms. Scarpone
"
You should be able to look back on your senior year and have pride in what you did."
— Mr. McAteer
In addition to the (somewhat) helpful advice from current seniors and teachers, here are a few more pointers that will hopefully help you in the future:
Don't stress yourself out too much about college! Everything will work out in the end, it's not worth crying over every night.

Don't worry about what your friends are doing next year, where they've applied to go to school, etc. You are your own person and you shouldn't let your friends stand in the way of doing what will make you happy.

If you don't do well on something, that's okay! Senior year is all about figuring out who you are and what you want to do in life, so don't let one failure push you back. Take it as a learning lesson and keep going! One failure will NOT determine your future.

Talk to your teachers if you're overwhelmed or feel like you're falling behind: they will completely understand and help you get back to where you should be.

Remember that no matter how far deep into senioritis you may be, it's never too late to try and get back out of it. Keep in mind that in just a few short months, you're going to have to be completely focused on school again – don't let yourself fall into a bad habit of not caring that will follow you to college!!

YOU WILL BE OKAY!!!!

About the Writer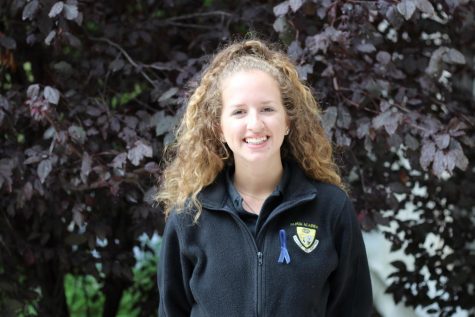 Dani F. '18, Reporter
What grade are you in?

I'm a senior at Padua.

What is your favorite food?

My favorite food is sushi, especially at Lily's Asian Cuisine...