French Film Festival 2018
Hang on for a minute...we're trying to find some more stories you might like.
The third-annual French Film Festival was held in Roberto Hall on Thursday, March 1st. French students in levels three and higher were given the task to create videos reciting a poem, giving the ABCs of France/French culture, and/or singing a French song. Students are encouraged to be creative with this assignment and may work individually, in pairs, or in groups of three. Friends and family are then invited to Padua Academy to watch the showing of the videos and be immersed into the French culture for a night. At the end of the night, each group is awarded a "Frenchie" to acknowledge all of the hard work that was put into the creation of the videos.
"
I used all of my pictures and videos from the school trip to France over the summer in my film. It fun to reminisce on everything that we did."
— Aliya Curran
Given the option of reciting one of four different poems, creating their own script using the alphabet, and recreating a song (as a music video), students took on this challenge with an enormous amount of creativity and excitement. Junior Aliya Curran, who is currently enrolled in Honors French III, says, "Honestly, I was skeptical at first but making the video for the Film Fest ended up being really fun! I did the ABCs of France so I used all of my pictures and videos from the school trip to France over the summer in my film. It was really fun to reminisce on everything that we did and get to share it with my classmates." She also mentions that it was interesting to get to see the different interpretations of the poems and alphabet, saying, "I really liked that we got to watch everyone's videos together. It was really cool to see how everyone took things differently and truly made them their own."
Before the showing of the films, there was a French themed dinner served in the cafetorium, provided by CulinArt. The menu consisted of French Onion Roasted Chicken, Parsley New Potatoes, and Hericots Verts (green beans), followed by a French dessert. Afterwards, everyone was invited downstairs for the viewing in Roberto Hall. Senior Julianna Cann, who is currently enrolled in AP French, said, "Every year I've had such a great time at the French Film Fest, and this year was no different. I love being able to celebrate one of my favorite classes with my friends and family, and also to get to enjoy everyone's hard work." The AP students were not required to participate in the Film Festival this year, but Cann, along with Tori Millsap and Jasmine MacFarlane, participated anyway because they wanted to continue their three year tradition and finish their French career at Padua with one of their favorite events. The trio was also awarded with the "Lifetime Frenchie Award" for their dedication not only to the event, but the entire French language and program.
"
I love being able to celebrate one of my favorite classes with my friends and family."
— Julianna Cann
Other Frenchies that were awarded to students included, "Best Use of Padua Academy as a Prop," "Best Video to Use as Promo for Future Trips to France," and "Overall Funniest Film." The award for Best Overall Film went to Junior Alicia Lenoir, who is currently enrolled in French III and did her own interpretation of the ABCs through drawings.

About the Writer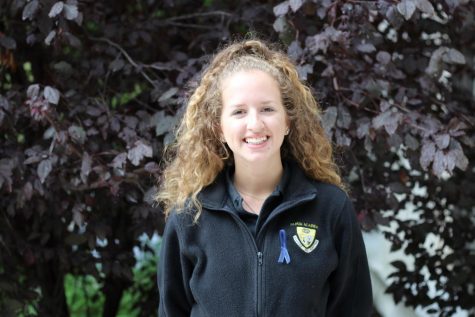 Dani F. '18, Reporter
What grade are you in?
What is your favorite food?
My favorite food is sushi, especially at Lily's Asian Cuisine in Kennett Square, PA (on Tuesdays for all you can eat, of course). I'm really not that picky when it comes to food though so I'll eat almost anything that's put in front of me; I'd definitely be okay living off of only ice cream and salad for the rest of my life though.
Favorite music?
I pretty much like any type of music, but I would probably say I listen to alternative the most. I'm a singer and I play four instruments so music is a huge part of my life. I'm also friends with a bunch of people that are already in the industry (and getting pretty well known) so it's safe to say that at any time of day, I'm probably listening to music.
Why are you taking journalism?
I'm really interested in communication arts and am thinking of taking it up as a minor in college, which is why I thought journalism would be a perfect fit into my schedule. I've always wanted to do into something in the multimedia field, so this is definitely a great choice for me.
Best advice you've ever received?
The best advice I've ever received is to try everything at least once because you'll never know what you might have missed out on if you don't.