Executive Officers For The 2018-2019 School Year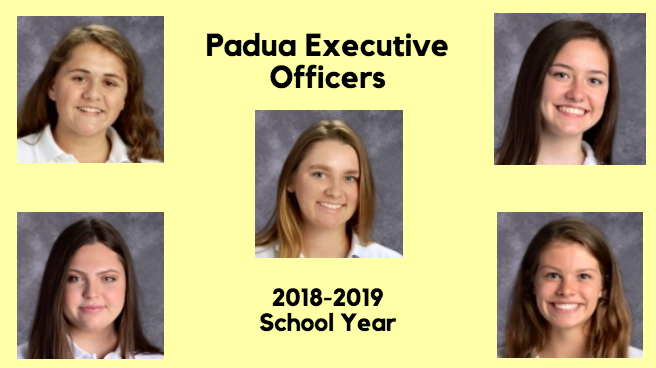 On Wednesday March 2, 2018, juniors at Padua Academy presented their speeches to run for the executive officers of the 2018-2019 school year. The runners were Sarah Jane Mee, Rose Langrehr, Allison Stuebing, Maureen Haffey, Caitlin Baxter. Madison Lennon, Rachel Delate, Clare Mazzeo, Emma Gruskiewicz, and Abigail Frank.
The weeks leading up to the election, those running were given the opportunity to hang up posters around the school. Some of these posters included jokes about throwback children shows, memes, and puns. They were also able to hand out various treats, like cookies and candy, during lunch.
During the speeches, most running juniors made memorable jokes. Abigail Frank talked about her many positive qualities and concluded it with saying how humble she was. Most runners talked about how much they procrastinate or how unorganized they are, which made them seem more relatable and funny because of how honest they were being. Some runners brought an authentic feel to their speech by talking informally and trying to personally connect with the audience.
On Thursday March 3, 2018, students were allowed to vote on a Google Form during flex for who they want their executive officers next school year to be. Later in the day, Rose Langrehr, Allison Stuebing, Maureen Haffey, Abigail Frank, and Caitlin Baxter were announced that they were the executive officers for the 2018-2019 school year.
Stuebing, who has been a class officer for her sophomore and junior years, says, "I really wanted to have an influence on how the activities for the school year will go in order to make everyone's school year the best it can be, whether that's their first or last year at Padua." She goes on to say how much she loves being able to bring ideas to the table and how excited she is to be working with the other executive officers next year.
"
I really wanted to have an influence on how the activities for the school year will go in order to make everyone's school year the best it can be, whether that's their first or last year at Padua."
— Allison Stuebing