Padua and Salesianum Theater: A Balancing Act
Caroline Achenbach, a junior, heads to Salesianum School as soon as the 2:35 bell rings for a two hour rehearsal in The Who's "Tommy." After that, she drives back to Padua for a several hour dance rehearsal for Padua's musical, "Anything Goes." Only after that does she go home to grab dinner and start on her homework.
The Padua musical and the Salesianum musical have overlapped for the past six years. However, many students still manage to find time to be involved in both shows, despite the amount of time commitment each show requires.
Achenbach has acted in every Padua musical that has occurred during her time at Padua, and had a lead role her freshman and sophomore years. This year, she plays Virtue in the musical "Anything Goes." However, she also received a lead role in the Salesianum musical, "Tommy." She plays The Gypsy, more commonly known as The Acid Queen.
"I do both shows because this is what I want to do for the rest of my life," she said. "I also want to do as much as possible because I love it."
Junior Grace Burrus is involved behind the scenes. She has been a part of Salesianum stage crew since her freshman year, and is heavily involved in the lighting department. Her job at Padua is quite different—she runs dance choreography workshops for the actors in "Anything Goes."
"A ton of my friends were in the Padua show, so I wanted to get involved as well," Burrus said. "So they went to Tanya [the choreographer director], and it just sort of took off from there."
On top of the two musicals, Burrus is involved with a third show—her dance studio is putting on a performance of "The Nutcracker."
"I think my schedule is pretty jam packed whether I'm doing one, two, or three shows, so I don't really feel stressed at this point, it's just my life," she said. "I'm pretty acclimated at this point, you know?"
Achenbach agrees. She explains that she has become so comfortable with the amount of activities she's involved in the she doesn't even think about it any more.
"If you plan your time right, it doesn't even affect your homework or sleep schedule that much," she said. "Of course I'm still stressed sometimes, but I've gotten pretty good at managing it all."
Achenbach also enjoys the different atmospheres of the two theater companies, explaining that each production has different aspects that are appealing to her.
"At the Sallies show, we're there because we have a job to do. It's might not always be fun but everybody is always working towards a good end product. It's more about the destination than the journey," Achenbach said. "At the Padua shows…it's the opposite. More about the journey than the destination. People are here because they just love performing. It's very loving, it's like a family. It's like their [the director's] passion project."
About the Contributor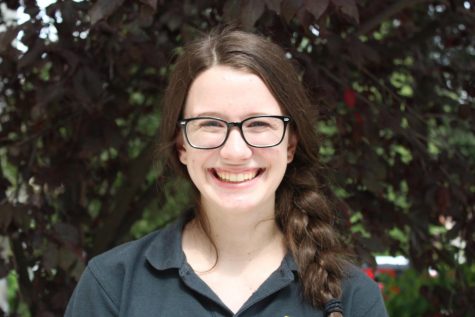 Brynna B. '20, Reporter
Brynna is a junior at Padua Academy. She loves writing, acting, dancing, and watching TV. Her favorite things to watch are Stranger Things, Sherlock, The...