Students Celebrate Chinese Culture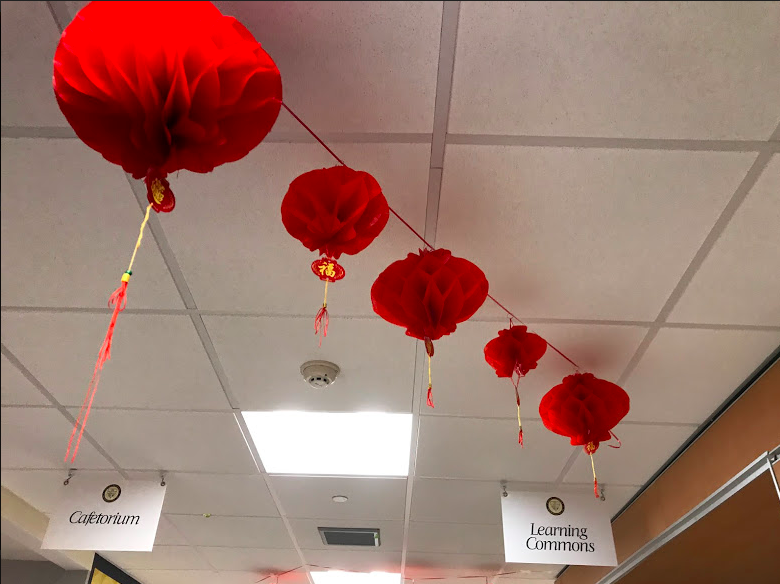 Padua's hallways were decorated with red lanterns and signs last week to celebrate the Chinese New Year. Fun events were planned throughout the week to encourage the appreciation of Chinese culture and tradition.
The Asian Culture Club helped Ms. Liang come up with ideas for the week. On Monday, students received fortune cookies in homeroom and had the option of creating lanterns during flex.
"I thought that receiving the fortune cookies was a cool way to learn a bit and enjoy a fun message." said Diana Kenes, a sophomore.
On Tuesday, students were allowed to wear red accessories and add-ons, a color believed to bring fortune and luck. Wednesday was Chinese New Year and to celebrate Asian films were played during both lunches. Friday was the final day to recognize Chinese culture week and students were invited to learn how to write their name in Chinese.
"I was able to participate in coming up with ideas for Chinese culture week, and seeing all of the ideas come to fruition was awesome," Molly Shapiro, a sophomore said. "The decorations looked fantastic, the fortune cookies, while not technically an actual Chinese tradition, were a fun treat, and the gong at the end of lunch was neat."
Ms. Liang introduced the idea for a Chinese culture week with the help of Mrs. Talbot and the Asian Culture Club. They took the time to plan activities and decorate the halls of Padua.
"Chinese New Year is the most important holiday in not only China but several other countries in Eastern Asia." Ms. Liang said. "Since we have students from these regions at Padua, I want to invite our students to celebrate the holiday and to be aware of the diverse culture that is represented at Padua.
Many agree that it is important to spread culture to give an insight on how other people live.
"It can allow people to feel more included or help people to include people of different cultures in their life." Sydni Write, a sophomore said.
Other students were glad to be able to share some of their culture to Padua.
"The Chinese culture week reminds me of home even though I am so far away," said Tingwei Shi, a senior and one of the leaders of the week. "I feel very lucky that people actually support this and are willing to learn about our culture."
About the Contributor
Amanda J. '21, Reporter
Amanda Jose is a very unique sophomore who is excited for the new school year.

At Padua, Amanda's favorite food are the cookies and potatoes. Her food...