92nd Oscars
92nd Oscars Highlights
The 92nd Oscars brought forth many talented artists and creativity presented in the past year's works. Opening the show was Janelle Monae in her tribute to Mr. Rogers as she sang her own version of, "Won't You Be My Neighbor?"
Monae, wearing the signature red sweater, walked into the audience to serenade Tom Hanks who played the role of Mr. Rogers in the Oscar Nominated film, It's a Beautiful Day in the Neighborhood.
Throughout the opening performance, Monae was actually calling out the films that had been robbed of their Oscar Nominations such as It's a Beautiful Day in the Neighborhood, Midsommar, Us, and Hustlers.
The night continued with many memorable moments. Some were sentimental, such as Billie Eilish's beautiful tribute performance singing "Yesterday" by the Beatles and Joaquin Phoenix's delivering a meaningful Oscar acceptance speech about the world. "I think about some of the distressing issues that we face collectively and at times we are made to feel that we champion different causes, but for me I see commonality." Phoenix said addressing the fight against justice in the world.
As always, there were humorous moments throughout the night such as Rebel Wilson and James Corden presenting the Oscar for Best Special Effects while dressed as their characters from Cats. Ironic, since their special effects were far from Oscar worthy.
The Oscar for Best Special Effects went to Parasite, a Korean film. This film was the first non-English film and first South Korean film to win an Academy Award. Parasite was one of eleven South Korean films to ever be nominated for an Academy Award. The crew graciously accepted the award, but it was difficult to ignore Corden and Wilson behind them dressed in the dreadful cat costumes.
Idina Menzel performed the Oscar nominated song "Into the Unknown," along with a group of other Elsas singing the song in their native language. While the performance was diverse and the song catchy, the song did not win an Oscar.
Brad Pitt won his first Oscar for Best Actor in a Supporting Role for the film, Once Upon a Time in Hollywood. In his speech, he expressed his love and gratitude toward his six children and director Quentin Tarantino. Pitt had been nominated 6 other times before and this was his second Oscar.
The Oscar for Best Animated Feature went to Toy Story 4. The camera panned over to a beaming Tom Hanks, who voices the main character of the film, as crew graciously accepted the award. They dedicated their win to their families, saying that creating family films took encouragement from their loving families.
About the Contributor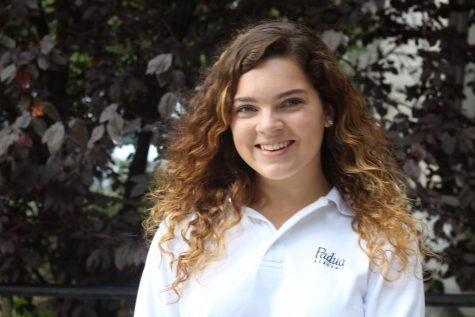 Jordyn C. '20, Reporter
     Jordyn is a senior at Padua Academy and has a brother named James, a Sallies freshmen. She is currently on the Padua dance team and has been since...