Mr. McAteer Joins Padua Staff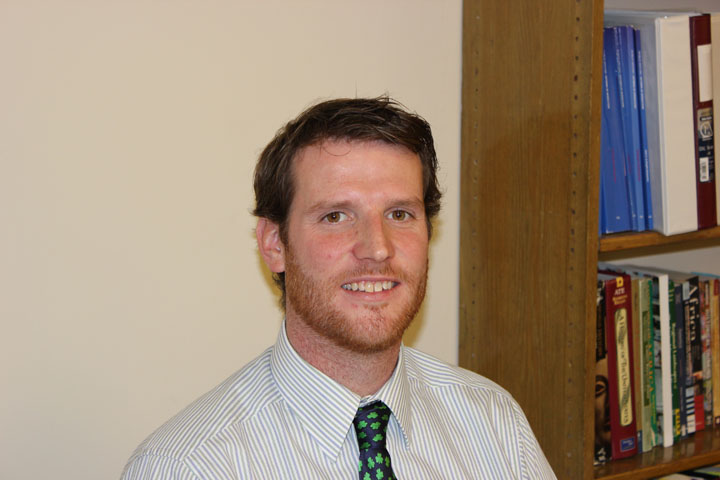 Padua Academy welcomes Mr. McAteer, one of our new social studies teachers. He was born in the quiet suburbs of Doylestown, Pennsylvania, and attended Lansdale Catholic High School. After graduating, he moved to Philadelphia and attended Temple University. He is the youngest of five children and at one point, he and all his siblings were teachers. However, now only himself and one other sibling teach.
One thing he would like to do before he dies is to visit every continent, besides Antarctica. Mr. McAteer knew he wanted to be a teacher since the sixth grade. He has always been interested in history and considers it to be his strongest subject. He credits his love of history to his fifth and sixth grade teachers who made learning it enjoyable. Before teaching at Padua, Mr. McAteer taught at several other schools including Prendie High School, Father Judge High School, Lansdale Catholic High School, and an all boys boarding school. At Padua, he currently teaches Psychology and Freshmen World Civilizations.
Mr. McAteer felt welcomed by the students and teachers because they were very helpful with the new schedule and the new material. He expected Padua to be somewhat like Prendie, another Catholic all girls school, but after arriving, realized it exceeded his expectations! He admires the fact that Padua students are always motivated to do well in academics. His most memorable moment at Padua so far was the Freshmen field trip to the Sight and Sound Theatre to see "Joseph." Mr. McAteer says, "If it were up to me, I would stay at Padua forever!"
About the Contributor
Silinda C., Reporter
Silinda is a sophomore at Padua Academy. She enjoys playing softball and many other sports. Silinda's favorite subject is Chemistry, and she is also a...