History Day 2015: Padua Students Present Their Projects
Hang on for a minute...we're trying to find some more stories you might like.
Each year, Padua students who are enrolled in Honors and College Prep American History courses are required to create a project in accordance with the National History Day Contest. This contest is an opportunity for students to research and present a topic in history that is related to the year's theme. The 2015 contest is focused on "Leadership & Legacy in History." From September through February, the students have been working on their projects, which can be in the form of an exhibit, performance, documentary, paper, or website. Padua students are strongly encouraged to enter the state contest; if they decide to compete, they could ultimately go all the way to the 2015 Kenneth E. Behring National History Day Contest, which will be held from June 14-18 at the University of Maryland.
Marguerite Beane ('16) explains her experience with creating a project for History Day, "For the most part, I did not like history day. However, towards the end when I really started gathering information, it was really interesting. I just wish I had started to get more into the project closer to the beginning." The history day process is also an opportunity for students to work on research and time management skills that they will use in the future.
Debbie Guerrero ('16) and Shelby Mitchell ('16) made a very creative exhibit on Hayao Miyazaki, a prominent Japanese animator. Debbie says, "The hardest part of the project was organizing all of the information that we gathered on our topic. Shelby and I went a little overboard on our research, so putting everything where it was supposed to go was really time consuming." Although students can work alone, the pair worked as a team, and they were able to successfully create their project.
The students definitely learned more about topics that interested them while also learning a lot from other students and their teachers, who guided the students through the process. Although it was challenging, the students gave their best effort and made Padua proud. Hopefully some of the projects will appear at the national competition in June!

About the Writer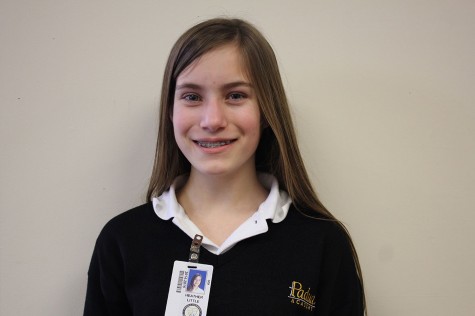 Heather L., Reporter
Heather L. is a freshman at Padua that enjoys dancing and playing the trumpet. In her free time, she also likes to read books and watch movies based on...