Fall Encounter 2015
Hang on for a minute...we're trying to find some more stories you might like.
    This past weekend over 30 Padua students went on Fall Encounter. These girls, called "Encounterites," spent the weekend at the retreat house in Pennsylvania to deepen their relationship with Jesus. The team leaders for this retreat are girls who have been on Encounter before and love it so much that they wanted to plan their own retreat to allow their Padua sisters to have a great experience as well. The team leaders, along with the chaperons, planned all of the activities for this weekend in hopes to get the Encounterites to reflect more on their relationship with Jesus.
    Hayley Abernethy, a Padua senior, expressed how excited she was to begin this journey. When she came back from Encounter, she didn't know how to start describing it. "Wow, where do I start? First of all, it was everything I hoped it would be. I was a little weary at first about the rumor of how close we would get as a group, but I was so surprised about how true it actually was. There were a few girls who I otherwise wouldn't have known and by the end of the retreat I felt like I had known them my whole life."
   When asked about the spiritual aspect of Encounter, Hayley was eager to share. "I feel like I really got closer to Jesus. It might sound weird but I really do think so. I actually really began to see God in everyone" She had such a great time that she would recommend going on this retreat. "Would I recommend going on Encounter? Of course! It was such a great experience. I want to be a part of the team next year so I can make everyone's experience as great as mine."
    In the spring of 2016, Padua will have another Encounter retreat. Those who are interested should email Mrs. Vavala for more information.

About the Writer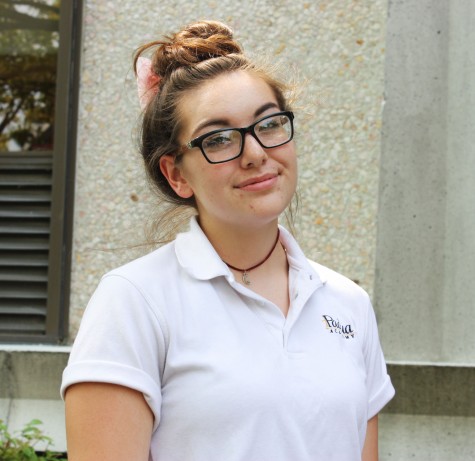 Sarah T. '17, Writer
Sarah T. '17, a junior at Padua Academy, is in no way related to One Direction band member Louis Tomlinson (although she did pretend to have a British accent freshman year to trick her classmates).
As a junior, Sarah actively participates in Color Guard for the Salesianum marching band and Blue Gold, an organization that helps kids with cognitive disabilities. "I just love helping those kids and putting smiles on their faces." One of her biggest successes at Padua was never dropping her flag during the marching season at games last year, only to fall short and ruin her streak while in competition.
When she's not partaking in many activities, writing comes very easily to Sarah. Given any prompt, she'll be able to crank out an essay for a literature class like it's no problem at all, but it may take her some time to memorize a couple math formulas. She is really looking forward to traveling to Italy with her Italian class later this year as well as one day going backpacking around Europe. Sarah also loves photography and is interested in taking pictures for Padua360 and writing about them. When at home, Sarah will sometimes take her camera and go out to look for weird or cool things to photograph, practice with her flag for Color Guard, or just scroll through her Tumblr dashboard or her Twitter feed, most likely losing track of time. In fact, the other day she was scrolling through Tumblr at ten at night only to hear her alarm go off for school at five. How she got through the day from there is a complete mystery.
Sarah loves to listen to music, preferably alternative artists. Among those artists are Fall Out Boy, Twenty One Pilots, Halsey, Panic! At The Disco, and Paramore. One of her absolute favorite music artists is an acapella group called Pentatonix that won the third season of The Sing Off competition on NBC in 2011, and she has been following them ever since then. One of Sarah's favorite movies just so happens to be a musical as well. The musical Heathers stars Winona Ryder, one of her favorite people of all time, in a dark comedy dealing with high school drama. "The [musical's] entire soundtrack is on my phone. It's such a jam." Sarah looks up to Nicki Minaj and Beyoncé because of their confidence, for being such strong supporters of feminism and for being an inspiration to their fans. In fact, Sarah would love to be Beyoncé for a day, though honestly who wouldn't, just to know "what it's like to be that confident and self aware."
From helping young kids to twirling and catching flags and pulling accidental all-nighters from being on the Internet, with a trip to Italy approaching, Sarah T. '17 is living the ultimate high school experience.
Written by Lauren M. '19