The Big Apple
Hang on for a minute...we're trying to find some more stories you might like.
The fifth most visited place in the world is New York City. With many interesting tourist attractions. New York City has 60 million tourists annually. One of the most popular places to go while in New York City, is Times Square. Times Square has tall skyscrapers, designer stores, theaters, LED lights that make the whole street glow, and countless places to eat. Jennifer says "There was so much stuff to look at." Many tourists spend two to three days here just so they can experience everything in the twelve block radius. A boy named Michael from Minneapolis visited Times Square and fell in love everything about it. He said "I want to live here." Many people from around the world have this same reaction when seeing these bright city lights.
Another commonly visited attraction in New York City is the Statue of Liberty. This statue is one 0f the tallest in the world, standing at 152 feet tall from the base to the torch, and weighing approximately 450,000 pounds. Visitors can walk around the base, or with advanced reservations, go up to the crown. One reason that this is so popular, isn't just because of the statue, but also because visitors can go to Ellis Island and the Immigration Museum on the same ferry, located where thousands of immigrants were processed before entering the United States. Many of the displays focus on the process, the experiences, and the stories of the people who came through there on their journey to the United States.
New York City is home incredible buildings, cultures, and attractions which explanations why over 60 million people visit a year.

About the Writer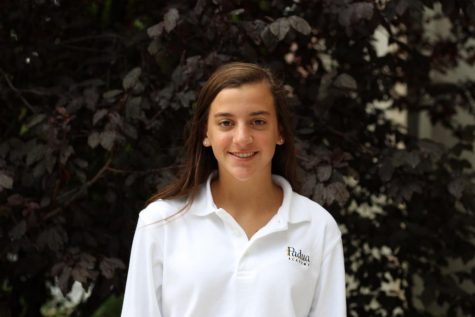 Olivia B. '21, Reporter
What grade are you in?
What is your favorite food?
My favorite food that I could eat every day is Chinese food.
What is your favorite type of music?
I don't really have a favorite genre. I like anything that comes on the radio.
Why are you taking journalism?
I'm taking Journalism because I want to improve my writing also because I have never taken a class like this so I thought something different would be fun.
What is the best advice you have ever received?
The best advice that I have ever received is to always be friendly.