Judging State Level National History Day
Hang on for a minute...we're trying to find some more stories you might like.
Each year at Padua, juniors enrolled in United States History or Honors United States History participate in National History Day. Every student prepares a project whether that be a paper, a documentary, a website, a performance, or an exhibit that correlates with that year's theme. If students do well on their project, they may be asked if they would like to participate in the state level competition held in the spring. Last year, Natalie Onesi, Sara Mayberry, and Chrissy Molloy competed on the state level for their play titled: Funding Mothers: Taking a Stand for Revolutionary Soldiers. The girls have been actively involved in theatre throughout their lives and knew from the start that doing a performance for History Day is something they wanted to pursue. They received first place at the Delaware National History Day state competition for their project category, wherein they decided to go on to the National competition at the University of Maryland in the summer of 2017.
Following placing at the state level, the students are able to be volunteer judges the upcoming year for their category. Now seniors, Sara Mayberry, Natalie Onesi, and Chrissy Molloy plan to judge the History Day state competition to be held on Saturday, March 24th. "As a performance judge, I'm really looking forward to watching history come to life and understanding the research behind each project" said Mayberry. Their position as judges will be to evaluate content, costumes, set, and overall familiarity with their chosen topic. Their judging would not entail having the final decision on which group places, but they will have an influence on the judging process. They are most excited to see how this year's performances combine history and art respectively.

About the Writer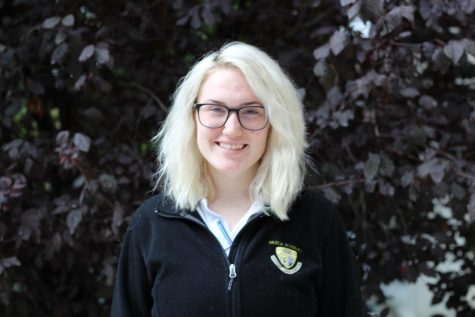 Chrissy M. '18, Reporter
What grade are you in?
What is your favorite food?
My favorite food is filet mignon, I only eat the steak my dad makes and Capital Grille's aged steak. I also very much love avocados, I eat one a day.
What is your favorite type of music?
I like all different genres of music, I despise country music though. Classic rock, indie pop, folk, reggae, alternative rock, and classical music are my jam. My favorite alternative rock band is Cage the Elephant.
Why are you taking journalism?
I am taking Journalism because I want to major in Multimedia Journalism TV in college so I can fulfill my dream of being a talk show host like Ellen Degeneres or Jimmy Fallon. Jellen?
What is the best advice you've ever received?
The best advice I have ever received is to be nothing but perfectly me and that I'm just going to have to accept failure after failure in order to succeed.