State of the Union 2018
Hang on for a minute...we're trying to find some more stories you might like.
On January 30th, President Trump delivered his first State of the Union address, focusing on the progress he and his administration have made so far, as well as his plans for the future. President Trump's pride in his presidency was made evident throughout the entirety of his address. Trump highlighted his foreign policy achievements by discussing his decision to recognize Jerusalem as Israel's capital, and his intention to keep Guantanamo Bay open. He explained that his work as President thus far has very positively impacted the economy, citing low unemployment and the two million jobs created under his presidency, specifically in manufacturing. Trump also mentioned his tax plan as well as the American people's confidence in the economy as reflected in the stock market. Trump also explained a recently introduced bipartisan immigration package, built on four pillars and a lot of compromise. The president assured viewers that while neither side got everything they wanted, the package still delivers on his perceived need to secure America's borders. Trump drove his point home through the story of two teenage girls murdered by undocumented immigrants as the teary-eyed parents of these girls were asked to stand for recognition while the chamber gave them a standing ovation. Trump's address also featured the stories of a number of other individuals ranging from a young boy who organized the placement of American flags on soldiers' graves, a fire prevention technician who saved 62 lives, a female Coast Guard member who rescued people during hurricane season, as well as many others.
Following Trump's remarks, the Democratic rebuttal was given by Representative Joe Kennedy from Massachusetts, who has been named as a rising star in the Democratic party. Kennedy's main talking points were on immigration and equality related issues, essentially arguing that President Trump's "America First" policies, stances on immigration, and nationalist rhetoric threaten the very ideals upon which the U.S. was built. "This administration isn't just targeting the laws that protect us — they are targeting the very idea that we are all worthy of protection," said Kennedy, "For them, dignity isn't something you're born with but something you measure." Kennedy pointed out that while Trump's speech gives the impression that he has had overwhelming success, the recent government shutdown, ongoing Russia investigation, and scandal surrounding him must also be taken into account. Trump has also been criticized for failing to mention pressing issues such as #MeToo, NAFTA, details on his plans for improving infrastructure, and a viable solution to resolving U.S. tension with North Korea.

About the Writer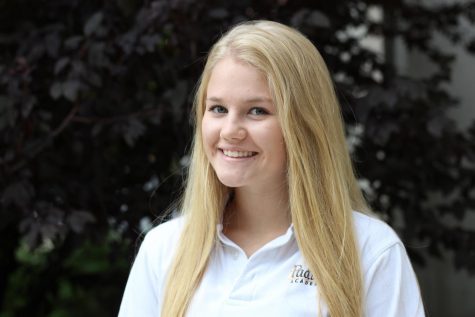 Caroline K., Editor
What grade are you in?

I am a senior at Padua Academy

What is your favorite food?

I could eat Mac and Cheese from Panera every day without...