No Further Explanation; Just Reputation
Taylor Swift is a 27 year old, world known American singer and songwriter who grew up in Reading, Pennsylvania and fell in love with music at a young age. Swift spent a lot of time traveling with her mom, Andrea Swift, looking to pursue a career in music. While traveling, Swift stopped in Nashville often and performed in The Bluebird Café. Swift's superb performance in the Bluebird Café was just the start of her career. It was that performance, in that café that helped her get noticed by Scott Borchetta, an American record executive and entrepreneur known for founding Big Machine Records.
Since her days in performing in The Bluebird Café, Swift has become one of the most successful recording artist of the last two decades, with over 170 million and counting records sold worldwide. After the release of 1989, Swift has sold over 25 million albums and 96 million singles in the U.S. alone. After three years of silence following her 1989 World Tour, Taylor Swift came back in August to announce her new album reputation. Swift released her first single "Look What You Made Me Do" on August 24, 2017 with other new songs, "…Ready For It?", "Gorgeous", and "Call it What You Want" being released periodically leading up to the album.
On November 10th, 2017, Swift's sixth studio album, reputation, was released. Forbes Magazine said, "Taylor Swift's new album sold more copies in its first day than any album has in a week this year." Billboard Magazine gathered data sales, and concluded that 717,000 copies were sold on it's first day. Because of this, reputation, has taken the crown for largest sales week of 2017.
The highly anticipated album was described by many critics as her boldest statement yet. U.K. Writer for The Independent said, "One of Swift's greatest talents as a songwriter is to encapsulate those moments, often in a new relationship, that you as a listener cannot." Billboard writer Jason Lipshutz described reputation as, "A love story–and a complicated grown-up one at that… Look what we made her do: show her flaws, try new things and welcome new challenges."
Padua Senior, Sarah Kunkle, said that "My initial reaction to the album was that it was very different from Taylor's other albums, so I wasn't sure if I was going to like it or not." Kunkle added, "My favorite single off the album is 'Call It What You Want' because it's different from what her usual music is, but it still sounds like the old Taylor. It's a fun song you could sing with your friends." Kunkle also described that she loves her new album because the songs are catchy and fun; however, the only thing she dislikes is that the lyrics don't have as much meaning as Swift's previous album. As of right now, Kunkle's favorite album from Swift is Red.
As Swift's new album continues to top charts and break records, don't forget to go on iTunes and order reputation or visit a local store and pick up your copy of reputation; or do both!
For more information on Taylor Swift's Reputation album and upcoming events, visit https://taylorswift.com/
About the Contributors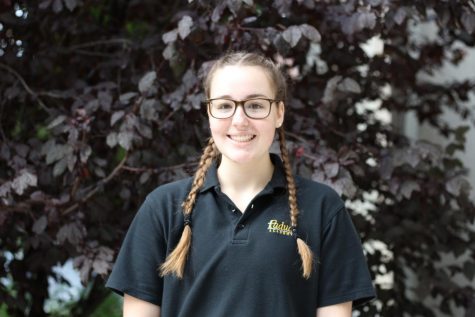 Meaghan O. '20, Reporter
What grade are you in?

I am a sophomore at Padua Academy. 

What is your favorite food?

My favorite food is cheese pizza.

What is your...