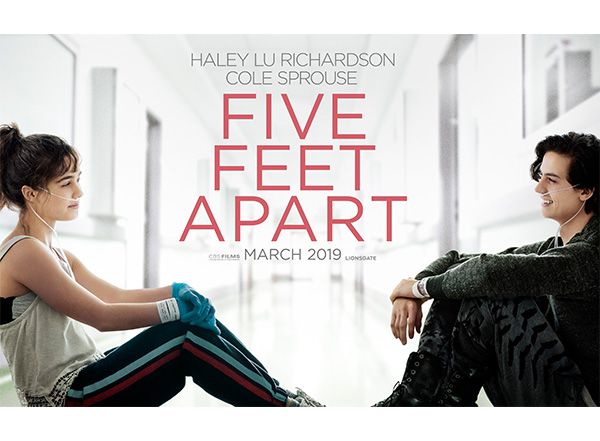 "Five Feet Apart" is a classic romance between two teenagers with cystic fibrosis that premiered on March 15, 2019. Cole Sprouse and Haley Lu Richardson star in the so-called love story of the year, directed by Justin Baldoni. While you may shed tears, you might be brought back to an all-too-familiar movie you most likely have seen before: "The Fault in our Stars."
"The Fault in our Stars" is classic romance between two teenagers with cancer, directed by Josh Boone and based on a story written by John Green. Ansel Elgort and Shailene Woodley play the two lovers who stick with each other no matter the condition they are in. "Five Feet Apart" is the off-brand remake of the "Fault in our Stars," from the characters all the way to the plot.
Cole Sprouse plays a heart-throb named Will who is slightly mischievous yet flirtatious. Will doesn't expect to get better, so he does his own things and does not take his medicine, cheating death every day up until Stella forces him to go on his medicine. In "The Fault in Our Stars," Ansel Elgort plays Gus, another good-looking flirtatious boy who loves to toy with death by putting a cigarette in his mouth without lighting it as a 'metaphor.' Both male characters are drawn to the girls right from the start and the romance starts off quickly.
Difficulty arise in both of the movies as the lovers grow sicker. Although the characters have different illnesses, the idea is the same that they will never know which day is their last. It's towards the end of the movie where the one slight difference occurs. Warning – there is a spoiler for both movies coming next. In the "Fault in our Stars," you witness the death and aftermath of Augustus (Gus) Waters. However, you only witness the goodbye scene between Will and Stella because it is implied he's going to pass away in "Five Feet Apart." The difference is small, but does leave an impact on the emotions of the viewer. In my opinion, it would have been better to show the death and aftermath of Will to truly make this the romantic tragedy it was meant to be.
With all the similarities between the "Fault in our Stars" and "Five Feet Apart," I feel like someone could have told me the plot lines of each movie and I would not be able to tell them apart. Details in the movie should have been changed to make someone feel like they aren't watching the same movie. The producers' hearts were in the right place when making this movie, but they did not think of past films made that were exactly like this, containing only one stand-out difference. Overall, "Five Feet Apart" was not a bad movie. It told a good love story with some twists in it and left the audience feeling blue. However, it was a very unoriginal concept.