Students in Action Take Action in the Community
Hang on for a minute...we're trying to find some more stories you might like.
With the holiday's coming up, now is a perfect time to get involved and give back to the community. Mrs. Campbell's Students in Action homeroom are always finding new ways to lend their help to the community.
Students in the SIA homeroom are a mixture of sophomores, juniors and seniors. This gives each grade an opportunity to find ways to get involved. The students reach out to organizations all over the Wilmington area and are continuing to find new ones. Some of the organizations include, St. Francis Hospital, St. Anthony's School, Mom's House, Emmanuel Dining Hall and more. Once a month the students go out to their organization to lend their services. The students put the opportunities on Ugive for anyone who is interested, "It is always great to have more students come with us to help," stated Olivia Bowman, a senior in the homeroom.  The opportunities are beneficial for both the volunteers and the people in need, "It gives you a great feeling and it is so fun," said Brooke Abrams, a SIA leader, "and you get services hours so it is a total win!"
The students in Action team are always looking for new volunteers to lend their time when available. If you are interested in partaking in these service opportunities please visit Ugive to check it out and volunteer

About the Writer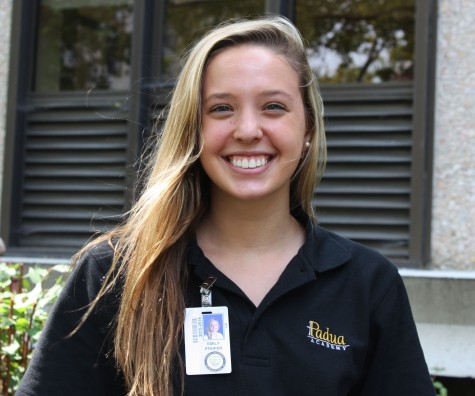 Emily P. '17, Writer
It's that time of year again. Thanksgiving rolls around and all her family members are so excited to see her for Thanksgiving break. She's been away...