Senior Athlete Signing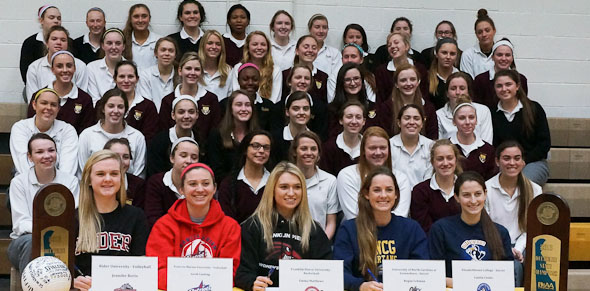 Hang on for a minute...we're trying to find some more stories you might like.
Many people dream of playing the sport that they love in college, and of going to the Olympics.  Girls at Padua have these dreams, and on February 6, 2014, some of those dreams came true.  Five girls signed with colleges, so that they can continue playing the sport they love for the next four years. Seniors Jen Borio, Sarah Cushing, Emma Matthews, Regan Lehman, and Caitlin Cooke were the students at the signing.  Cushing and Borio got their scholarships for volleyball, Lehman and Cooke signed for soccer, and Matthews signed for basketball.  They have worked very hard to get to this place, and their family and friends could not be more proud of them.
All of the girls were asked where they signed for college and what position they expect to play.  Jen Borio responded, "I signed with Rider University to play Division One Volleyball, and I play the position of right side hitter."  Emma Matthews said, "I signed with Franklin Pierce University in New Hampshire.  I play the guard position for basketball." Regan Lehman replied, "I signed with  the University of North Carolina Greensboro, and I play center mid for soccer."  Sarah stated, "I signed with Francis Marion University, and I am a setter for volleyball."  Caitlin Cooke added, "I signed with Elizabethtown College." The girls definitely earned these scholarships through their hard work.
While sports are a very important aspect of these girls' lives, so is school work.  They would not be able to play sports if they did not keep up with their grades here at Padua. At times it was tough, but it certainly ended up being worth it.  Senior Sarah Cushing shared her experience saying, "It does get stressful at times, especially with a Padua workload. When I have four or five hours worth of homework and a two hour  practice that night, it can be a lot to take on. Being an athlete really teaches you good time management skills and how to sort out your priorities."  Time management is a big lesson to learn while playing a sport!
With their hard work in academics, they were able to play the sport they love.  Their families as well as their Padua sisters are very proud of them, and wish them the best of luck.