Padua Dives into the State Championships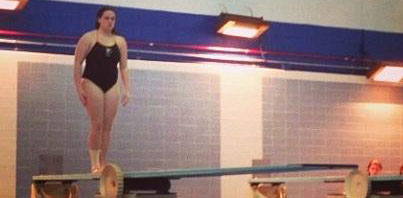 Hang on for a minute...we're trying to find some more stories you might like.
On March 1, 2014, senior Alexis France competed in the 2014 Diving Finals Competition. After the preliminary rounds, Alexis was seeded first. She fiercely competed and her efforts were prominent with each dive. The deck was crowded with swimmers and coaches as they rooted for their divers. The meet took place at the Carpenter Sports Complex at the University of Delaware and the event was sold out. With all of this pressure, Alexis still fought and performed a great competition.
Everyone in the building waited anxiously for the pending scores after each dive. With excitement, the Padua supporters' cheer filled the building as they heard Alexis being announced in third place. She said, "Without the encouragement of my team I don't know if I could be Padua's diver.  They have been there to support me at every meet and are always my biggest fans.  I don't know what I would do without my swimming sisters cheering me on every meet. I am so grateful to have such a supporting team." This was the end of Alexis's diving career, as she is a senior going to Temple University next fall.
"It was a relief and it was also sad.  I was relieved because I was happy I ended my diving career on a good note, but I was also sad because I knew it was all ending." All of her Padua sisters are extremely proud of the way she has represented Padua. All of her hard work and dedication really came through this season.

About the Writer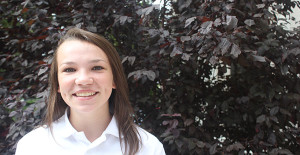 Madelyn J., Reporter
Madelyn is a freshman at Padua Academy. She enjoys playing volleyball and spending time with friends and family. When she grows up, she hopes to have a...