National and State Cheerleading Champions
Hang on for a minute...we're trying to find some more stories you might like.
After finishing a successful season cheering for Salesianum's football team and other events, Padua immediately entered its third consecutive year as a competitive cheer team.  With practices two times a week for the fall season, the Pandas' cheer squad added a Sunday practice session to begin preparing for the winter competition season.  This involves performing two and a half minute routines to music.  The head coach is Maria Catalina and the assistant coach is Stacy Eby.  Team captains are seniors Carmella C., Emily E. and Kaitlyn M.
Padua Academy is celebrating two national banners and its most recent state championship title for the first ever competitive cheerleading state competition.  Padua Academy's competitive cheerleading team earned its first state championship on February 1 at the Christiana High School Cheer Competition and another on February 8 at the Dover High School Cheer Competition.  The team continued its winning streak all the way to the Delaware Coaches Cheerleading Association State Championship competition on March 2 at McKean High School. In only two years of being a competitive team, the cheer team won the Pandas' first ever state title in competitive cheerleading, which previously had been held by St. Mark's for six years.
Following its state championship win, Padua attended the Grand National Competition sponsored by Cheer and Dance Extreme on March 21-23.  Padua brought its best tumbling skills, throwing, catching, and flying talent to the Virginia Beach Convention Center.  The Pandas took home first place, the team's first ever national title, from among four teams in the division.  The team also earned the title of Grand Champion by scoring the highest in the High School Division, consisting of the 13 teams competing at the event.
The team consists of four seniors, ten juniors, six sophomores, and seven freshmen.  According to team manager, Yaya T., winning Nationals was well deserved and an important win for them.  She stated, "I love watching the new girls grow into their technique and watching the veterans become leaders and better their craft.  I could not be more proud of my girls for winning Nationals.  I can't wait for another season of success for the team."

About the Writer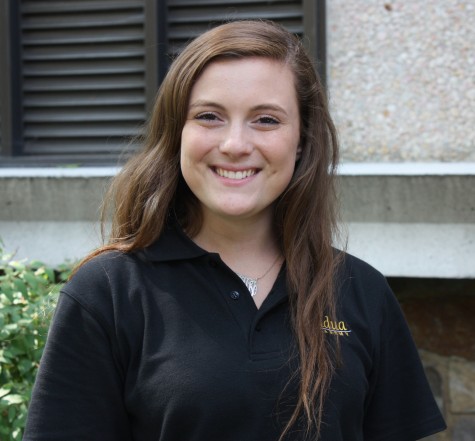 Brianna V., Managing Editor
Loud music begins as the Padua dance team struts into the gym. Each girl takes their place on the hardwood floor in front of the entire student body. By looking front and center, you can find one of the senior dance team captains, Brianna V. '16. Brianna would consider her life as revolving around dance due to the fact that she's on four different dance teams. "The dance studio is my second home," she says since she takes classes there so frequently. She literally eats, sleeps, and dances when she is not in school. She even has a job at the dance studio teaching other children how to dance. She may be a role model to these kids like her role model, her choreographer, Tori. She knows a lot about dance since she's been dancing since she was four years old, going on her fourteenth year. This makes her feel as though she has some authority involved in her passion. Authority also comes with her position as the captain of the Padua Dance Team, along with independence and the ability to be a team player. To be a team player Brianna says it is essential to "work with others". Her dancing also needs to include quality which she defines as "something worthy of looking at," just like the crowd of girls looking at her in the Padua gym. Success is very important to Brianna as well. The first time she won a competition with her Padua team, during her sophomore year of high school, she had an incredible feeling of success. Not only did her team win the overall competition but they also won five other awards, including the award for choreography. She considers dance as something that comes very easy to her but she has other hobbies and interests in her life.
Writing, making movies, shopping at Victoria's Secret, swimming, and listening to Taylor Swift are some of the things Brianna likes to do when she gets a break from dancing or school. The writing aspect of multimedia journalism is the main reason as to why she's the editor of Padua360.com. She's been wanting to take this class ever since sophomore year to gain the ability to improve her writing skills. Her future holds endless possibilities and she knows what she wants out of it. Her next step in her life will be applying and looking for the right college to fit her criteria. She plans on going far away, hopefully to Arizona or Nevada where she would like to do a double major in English and film. Dance will continue to be a large part of her life as she would like to try out for her college's dance team. After college, specifically in ten years, she hopes to see herself married with three children, and have a successful occupation as a screenwriter. As Brianna moves on to the next chapter of her life, she will always remember the feeling she gets while dancing in front of her sisters here at Padua.
Written by Marissa D. '16