NBA's Reaction To Kobe Bryant Death
This past Sunday, January 26th, NBA legend Kobe Bryant and his 13 year-old daughter, Gianna Bryant, passed away in a tragic helicopter accident along with seven others. Bryant, at just 41 years old, was a five-time NBA Champion. He was from Philadelphia, grew up in Italy for a few years, and went to Lower Merion High School before his NBA career.
Bryant made a huge impact on his fellow teammates and opponents. Shaquille O'neal, former teammate of Bryant on the Los Angeles Lakers, expressed his thoughts on an instagram post. "There are no words to express the pain I'm going through now with this tragic and sad moment of losing my niece, Gigi, & my friend, my brother, my partner in winning championships, my dude and my homie," O'neal said.
Bryant also made a huge impact on his fans. Andrew Mayo, a sophomore at Salesianum was a fan of Bryant ever since he was a child. "Kobe Bryant's passion and determination inspired me to be both dedicated as an athlete, and as a student," Mayo said.
Outside of the Staple Center, where Bryant played so many of his games throughout his career, fans have paid tribute by placing flowers, cards, basketball, notes, and many other things to honor Bryant.
On Friday, January 31, the Lakers played their first game since Bryant's passing. Fans gathered in and outside of the sold out stadium and many tributes to the legend occurred. In the beginning of the game, lights turned off and fans shouted "MVP" while Usher sung Amazing Grace. A video dedicated to Bryant about his legacy and values played as well.
24 seconds, representing one of Bryant's jersey numbers, was devoted for a moment of silence for Bryant, Gigi, and the other passengers on the helicopter. BoyZ to Men did a special performance, and Lebron James, former teammate and friend of Bryant, gave a heartfelt speech before the game began.
Vanessa Bryant, wife of Kobe and mother of Gianna, posted on Instagram sharing her gratitude for everyone's support for her family during this time. "There aren't enough words to describe our pain right now. I take comfort in knowing that Kobe and Gigi both knew that they were so deeply loved. We were so incredibly blessed to have them in our lives," Vanessa said. She also is using the Mamba Sports Foundation for a fund to support other families affected by the tragedy.
About the Writer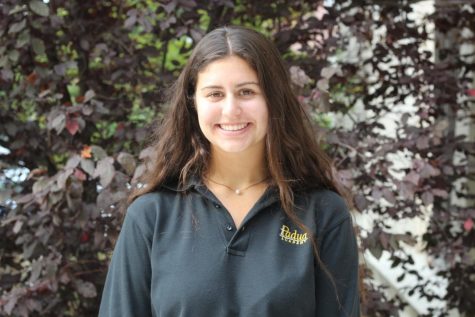 Maria S. '20, Reporter
     Maria was born on the 3rd of April during 2002. Maria was raised in Delaware County, Pennsylvania along with her younger sister, Gina. She works...