Ms. Altoe: A New Face at Padua
Stop by Room 310 and visit Ms. Altoe, a new English teacher at Padua. She graduated from Neumann University in 2017 with a bachelor's in English and a certification in secondary education. Currently, Altoe is studying at the University of Delaware to earn her master's degree in reading and literacy. She will graduate in June.
Altoe's journey to her teaching career began back in her pre-teen years, when she discovered her passion to major in English. "I had known since middle school that that's what I wanted to do," she said. "But I didn't really know what I was going to do with it." After much hard work, Altoe was very happy when she received her certification to teach.
In 2017, Padua Academy welcomed Altoe as a student teacher with Mr. Cross. She worked in the English department for three months and enjoyed every moment of the experience. Altoe describes those three months as her favorite Padua memories so far. She said that their relationship changed "from student and teacher to a friendship between colleagues." And, even now, Mr. Cross is the first person Altoe goes to if she needs help with anything due to their great connection.
"Throughout the whole school, everyone is so willing to help, and I don't think you get that everywhere."
Sometimes, teaching can be difficult and demanding. Altoe knows that the most tasking part of teaching is challenging her students, who need more than just to memorize the answers. "To engage students in a thoughtful discussion and do it effectively so they're enjoying it and they're getting a lot out of it, I think that's challenging," she said.
However, Altoe's new job is also lots of fun and excitement! She enjoys decorating her classroom, and, of course, having her summers off. She loves having a good relationship with each of her students, and describes these connections as her favorite aspect of teaching. "The best parts about teaching are having a rapport with students," Altoe said, "so being able to talk to them … and just the funny things that they say."
Altoe has high expectations for her freshman class and cannot wait to witness their accomplishments. "I think they are going to do really great things," she said. Altoe expressed her excitement to see how far her students can go. Even on rough days, she loves how they can make her day just a little bit brighter, sometimes without knowing it.
Although her time at school has just begun, Altoe hopes to be part of the Padua Academy family for many years yet to come. "I love teaching here at Padua because of my amazing colleagues," she said. Don't forget to welcome Ms. Altoe to the Box of Love, where she plans to stay for quite some time.
About the Contributor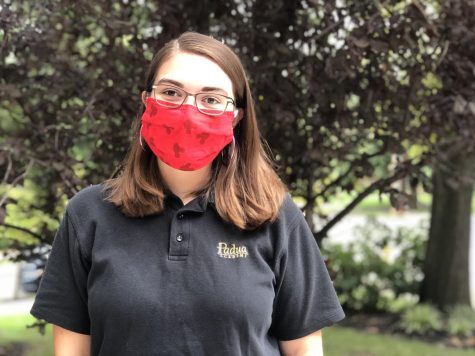 Emily M. '22, Editor-in-Chief
Emily is a Junior at Padua Academy. She took Journalism as a Freshman and is back to be Padua's youngest editor-in-chief! As a writer, she won two awards...