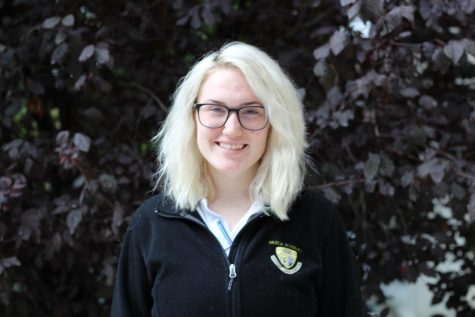 What grade are you in?
What is your favorite food?



My favorite food is filet mignon, I only eat the steak my dad makes and Capital Grille's aged steak. I also very much love avocados, I eat one a day.



What is your favorite type of music?



I like all different genres of music, I despise country music though. Classic rock, indie pop, folk, reggae, alternative rock, and classical music are my jam. My favorite alternative rock band is Cage the Elephant.



Why are you taking journalism?



I am taking Journalism because I want to major in Multimedia Journalism TV in college so I can fulfill my dream of being a talk show host like Ellen Degeneres or Jimmy Fallon. Jellen?



What is the best advice you've ever received?



The best advice I have ever received is to be nothing but perfectly me and that I'm just going to have to accept failure after failure in order to succeed.



Chrissy M. '18, Reporter
Apr 24, 2018

Blue Gold Bingo Night

(Story)

Apr 17, 2018

The Philly Zoo Experience

(Story)

Apr 16, 2018

2018-19 Executive Officer Board Interest Meeting

(Story)

Mar 15, 2018

Judging State Level National History Day

(Story)

Feb 19, 2018

This Is Us: THE BIG REVEAL

(Story)

Jan 29, 2018

SST's Les Misérables Preparation

(Story)

Jan 11, 2018

Firefly – The Alternative Rock Music Festival

(Story)

Dec 13, 2017

A Longwood Gardens Christmas

(Story/Media)

Dec 10, 2017

Best Stocking Stuffers

(Story)