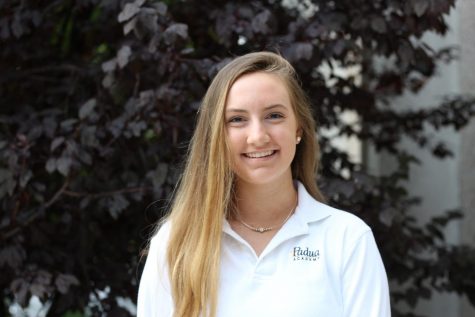 What grade are you in?
What is your favorite food?



A Jim's cheesesteak, wiz with out, with a coke, sitting on the South Street curb.



Why are you taking journalism?



Journalism opened up opportunities for me, including, attending the Democratic National Convention, being published on the Best of Sno website, and honing my writing skills. When the opportunity to lead the class arose, I jumped on it.



Best advice you've ever received?



Be cautious of the people you meet.



Favorite music?



Blasting country music, in a truck, will always make my think of the happiness only summer can bring.



Grace C. '18, Editor
Feb 13, 2018

Women's Rights in Saudi Arabia

(Story)

Jan 19, 2018

A Special Community Homeroom

(Story)

Dec 14, 2017

Russian Olympic Doping

(Story)

Nov 25, 2017

The Push for Specialized Jobs in High School

(Story)

Oct 10, 2017

An Interview with Rosa

(Story)

May 16, 2016

Staying Focused at the End of the Year

(Story)

Apr 14, 2016
Mar 30, 2016
Mar 17, 2016

Big Sister Little Sister Tea

(Story)

Mar 05, 2016

A Review of Rihanna's "Anti"

(Story)

Feb 24, 2016
Feb 08, 2016

Signing Day Photo Gallery

(Story/Media)

Feb 03, 2016

Panic! At the Disco Album Review

(Story)

Jan 29, 2016
Jan 04, 2016

Being a Non-Catholic at Padua

(Story)

Nov 30, 2015

Padua's Monogram Trend

(Story)

Nov 09, 2015

The Stress of Taking an AP Class

(Story)

Nov 05, 2015

High School Students with Jobs

(Story)

Oct 16, 2015

The Life of a Student Athlete at Padua

(Story)

Oct 07, 2015

Spirit Assembly Photo Gallery

(Story/Media)

Sep 19, 2015

Padua Students Interview Air Force Member

(Story)