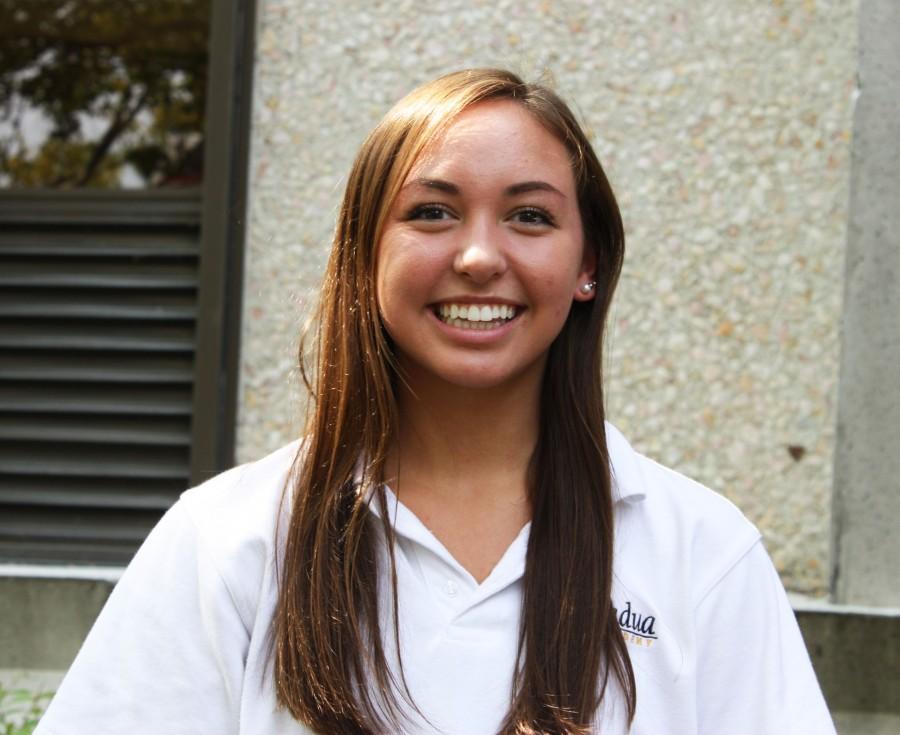 "I work well under pressure because I've always had someone there to push me to be the greatest I could be," stated Bailey T. '17. Bailey is a junior and is one of the newest editions to the Padua360 team. She is very determined to accomplish whatever she has on her mind set on and excels under pressure. She also believes in getting things done with good quality.   Bailey has been dancing since she was five years old, on both the Blue Rocks dance team for two years and for Padua's dance team for three years. That's where she gets her determined mindset. She wants to go far in life, become famous, and be successful with a nice family to help her along the way.
    Aside from dancing, Bailey also enjoys hanging out with friends and family. She is very protective of them, but she is always looking for new friendships to build  and is passionate about talking to others. Bailey is the kind of person who speaks the truth and is not afraid to tell you what she thinks. She also enjoys giving advice to others and helping people in anyway that she can. Bailey considers herself a positive person and likes to be optimistic about everything.
    Bailey's role model is her Mom. When asked who she could be for a day, she chose her Mom. Bailey picked her Mom because, " [she] would see how much work [her Mom] has to do and see how much work it takes to raise a child well and make them a good child." When she gets older she hopes to "have a nice job, married, living in a home with a puppy, with 2 kids in the future." Most importantly, she wants to be happy and make others happy.
    Bailey enjoys scary movies but she is afraid of the dark, getting kidnapped, spiders, and getting taken away from her parents. Three places she would like to go are Paris, Los Angeles, and London. Her favorite foods consist of grapes, pizza, chicken noodle soup, and Twix bars. Bailey's favorite animal is a baby cheetah because "they are literally the cutest things ever."
   Bailey is interested in journalism because "you find out new things you didn't know before." She gets her news from twitter and frequently checks it so she is up to date on the news. Bailey joined the Padua360 team because she wanted to learn how to show her work online so everyone could see it.
Written by Rachel B. '18
Bailey T. '17, Writer
May 24, 2016

Summer Activities

(Story)

Apr 03, 2016

5 Questions With….

(Story)

Mar 28, 2016

Dance Team Goes To Disney

(Story)

Feb 26, 2016

Coldplay's New Album: A Head Full of Dreams

(Story)

Dec 24, 2015

Father Daughter Dinner Dance

(Media)

Dec 09, 2015

Tree Trim Assembly Photo Gallery

(Story)

Nov 28, 2015

Black Friday Memories

(Story)

Nov 13, 2015

Upcoming Season Festivities: Thanksgiving!

(Story)

Oct 24, 2015

Homecoming Survival Guide

(Story)

Oct 16, 2015

Teachers as Students: Mr. Beno

(Story)

Sep 23, 2015

From A Pretend Classroom to A Real One

(Story)