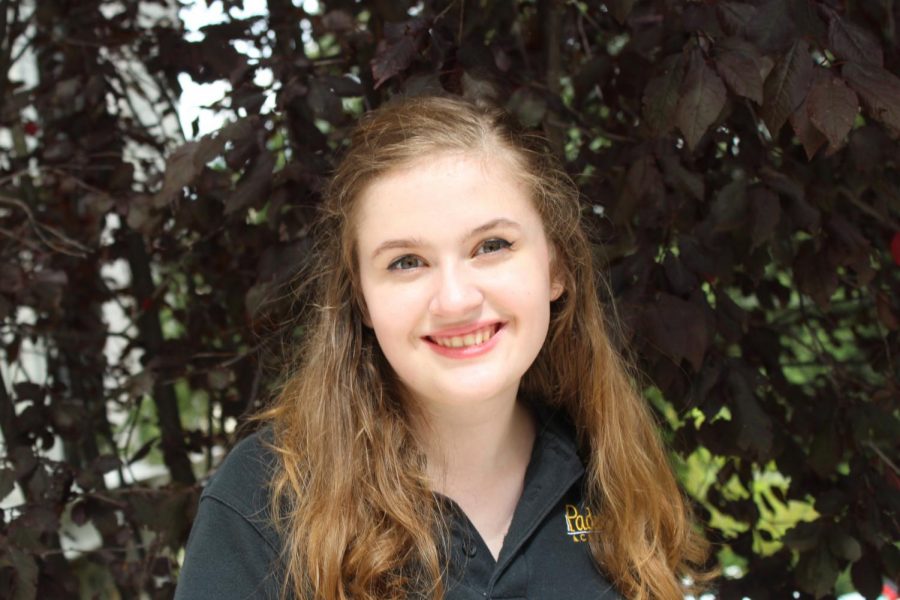 Stella White is a senior at Padua Academy. Born in Delaware, with a wonderful British accent, Stella has spent a lot of her life growing up in England.
She is an only child but has a beautiful standard poodle, who is just like a sister to her. Stella's mom is American and her dad is English. She went to NCCL for her elementary and middle school.
Due to her parents' jobs, Stella has been to 37 different countries! Her parents are professors and researchers and she always goes with them on their travels. Stella would like to go to South America and Mongolia.
Here at Padua, Stella is taking 3 AP classes. Her favorite subject is history. Stella wants to go to England for college and would major in history and international relations. "I love learning about the world and hearing people's stories," she says.
Stella W. '19, Editor-in-Chief
May 22, 2019

From China to Delaware: The Chinese Education System, and Why Students Leave It

(Story)

May 07, 2019

The Best British Entertainment Americans Are Missing out On

(Story)

Apr 29, 2019

Dr. McClory Named as New Principal

(Story)

Apr 16, 2019

Immaculée Ilibagiza, Rwandan Genocide Survivor, Tells Story of Faith and Forgiveness

(Story/Media)

Apr 16, 2019

As Mrs. Mann Parts Ways With Padua, Hopes and Questions Emerge

(Story)

Apr 11, 2019

Does Padua Have a Parking Problem?

(Story/Media)

Mar 31, 2019

Former White Supremacist Speaks About Hate, Inclusion

(Story/Media)

Mar 10, 2019

Secret Spaces

(Story/Media)

Mar 07, 2019

Living with Type 1 Diabetes: What Diagnosed Students Want You to Know

(Story)

Feb 18, 2019

Are You Facebook Friends With Malia Obama?

(Story)

Feb 07, 2019

Bringing Childhood to Life: How Objects from Our Pasts Have Shaped Us

(Story)

Jan 31, 2019

Interfaith Panel Speaks to Students

(Story/Media)

Jan 16, 2019

Mrs. Mann Announces Retirement

(Story)

Jan 15, 2019

"Bandersnatch": A Choose-Your-Own-Adventure That May Leave You Wanting More

(Story)

Jan 14, 2019

21-Year-Old Student Runs for Mayor of Newark

(Story)

Dec 11, 2018
Nov 28, 2018

College Mail: Irritating or Important?

(Story/Media)

Nov 28, 2018

Padua Students Share Their Favorite Christmas Movies

(Media)

Nov 27, 2018

Eva Kor Visits Padua, Shares Story of Forgiveness and Hope

(Story)

Nov 10, 2018

Do Students Get Enough Sleep?

(Story/Media)

Nov 02, 2018

Art and Architecture at Saint Anthony of Padua Church

(Story/Media)

Oct 30, 2018

The Reality of 'Never Again'

(Story/Media)

Oct 23, 2018

Steve Coll Discusses 'Fake News'

(Story/Media)

Oct 09, 2018

Members of the Padua Dance Team Share Their Experiences

(Story/Media)

Oct 08, 2018

Suicide Prevention at Padua: Starting the Conversation

(Story/Media)

Sep 03, 2018

A Seemingly Spontaneous Sparkle Party

(Story/Media)

Sep 03, 2018

A Reflection on My Five Days in D.C.

(Story)

May 28, 2018

A Look into AP Lang

(Story)

May 12, 2018

The Iran Deal: What It Is, and What It Means for the World

(Story)

Apr 30, 2018

Penny Wars: A Cause That Makes Cents

(Story)

Apr 30, 2018

The Last Community Homeroom of the Year

(Story)

Apr 20, 2018

Padua Community Gathers to Remember Father Nicholas Waseline

(Story)

Apr 17, 2018

The Philly Zoo Experience

(Story)

Apr 16, 2018

Stations of the Cross: Photo Gallery

(Story)

Mar 15, 2018

The Benefits of a High School Theatre Program

(Story)

Mar 02, 2018

Jackie Knotts: Athlete Profile

(Story)

Feb 27, 2018

The Hectic Weeks of Course Selections

(Story)

Feb 27, 2018

Padua Performs "The Addams Family"

(Story)

Feb 19, 2018

French Club Celebrates Mardi Gras: Photo Gallery

(Story)

Feb 09, 2018

Padua Dance Team Performs at Pep Rally

(Story)

Feb 06, 2018

Padua Competes in Academic Bowl Final

(Story)

Feb 06, 2018

Hungry Pandas Cake Decorating Contest: Photo Gallery

(Story)

Feb 01, 2018

Paige Kenton: Athlete Profile

(Story)

Jan 30, 2018

Athlete Profile: Lauren Mottel

(Story)

Jan 19, 2018

Philadelphia Women's March 2018: What To Expect

(Story)

Dec 28, 2017

How Padua Students Personalize Their Look

(Story)

Dec 16, 2017

Coco: Another Masterpiece from Pixar

(Story)

Dec 16, 2017

Padua Practices Public Speaking

(Story)

Nov 12, 2017

New Teacher Profile: Ms. Gaynor

(Story)

Nov 12, 2017

Padua Juniors Participate in History Day

(Story)

Oct 30, 2017

Padua Academy Attacks Academic Bowl

(Story)

Oct 24, 2017

The Threat of North Korea: What Do Students Think?

(Story)

Oct 22, 2017

Padua Students Experience the PSAT

(Story)

Oct 17, 2017

An Overview of Current World Leaders

(Story)