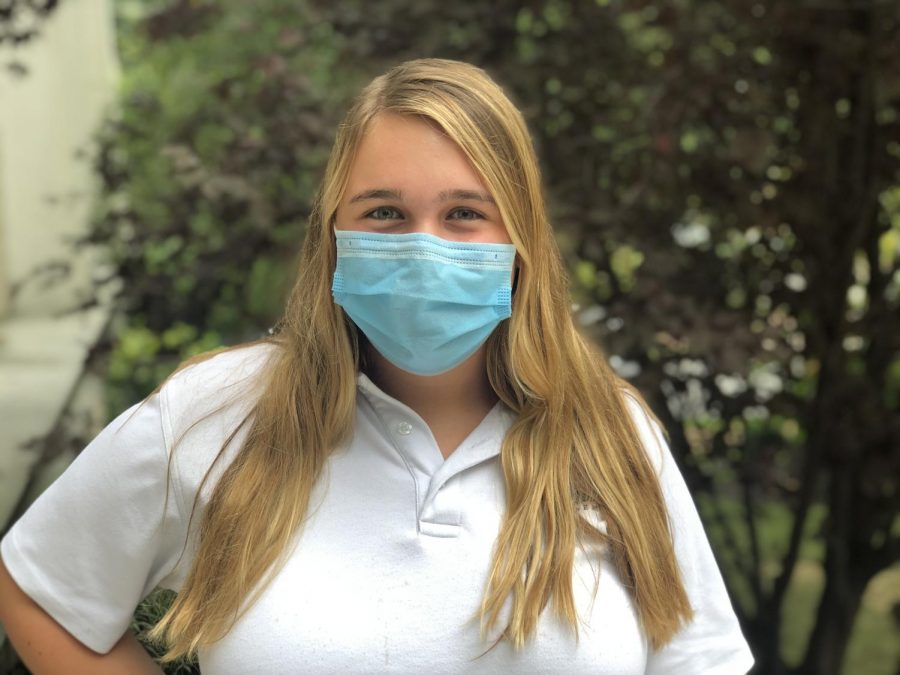 2020 started off with high hopes and promises of an unforgettable year. People lit up with excitement as they talked about the start of a new decade. Holidays such as Halloween and Fourth of July fell on Saturdays, and promises of extragevent parties floated around.
Within the first few days of January I was immediately thrown into a busy and tiresome schedule. I would wake up at 6:30 AM to go to school, go to back-to-back play rehearsals afterwards, and then do my homework when I got home around 10 pm. These events would repeat themselves everyday for weeks to come.
I felt like I was running on pure caffeine for the entire day until I knocked out at night. I kept my hopes high for the spring, ready for free time and relaxation. Little did I know how much free time I would soon have.
With February came the Padua production of "Mamma Mia". My days were filled with glittering makeup and vibrant dance routines. I became swept up in hour long rehearsals and the familiar feeling of being packed backstage with other cast members.
The thrill of adrenaline before each show and the thunderous applause of the audience made all the hard work worth it. The cast had a tearful goodbye as we all gathered around in a circle for the last show, not ready to leave the bright stage lights and loud, joyful music. 
It was on February 22nd around 10 am when my grandfather made his way to heaven. My 2020 was immediately thrown off balance. The world tilted on its axis, and I was left with a weight of mourning and loss. 
March came like a dark, gloomy cloud. I didn't have enough time to wallow in my grief as I was rushed into Salesianum tech week for the musical "Ragtime". The transition from the bright, colorful show of Mamma Mia to the dark, serious show of Ragtime was immense.
In a way, it was a depiction of the year thus far; unpredictable and always changing. 
Talk of a new coronavirus made its way around backstage with hushed whispers of the unknown. The topic was met with the rolling of eyes and statements such as, "everyone is overreacting".
"Ragtime" had a successful finish and the show was met with praise. I felt like a huge weight had been lifted off my shoulders. From then on I saw a clear, stress free path ahead of me. 
My first week at school with no theater rehearsals was odd to say at the least. The new coronavirus, formally known as COVID-19, took control of all classroom discussions.
The virus had begun to spiral out of control as hospitals filled up with new infected patients everyday. Classroom lessons filled l with talks of the new virus and teachers warned us to take all our school supplies home.
March 13, 2020 was met with a cold, unsettling atmosphere. With recent news of schools shutting down, nobody knew what was to come.
The announcement came at the end of the day, classrooms erupting in cheers at the news of a two week break. Students walked out of schools with smiles on their faces, making promises to hang out over the "break."
As cases grew at a substantially high rate, two weeks out of the building turned into months. I entered April with my head spinning, attempting to process what had become of the year.
I developed a routine over the quarantine period: wake up, make coffee, attend online school, do homework, go to bed, repeat. I was met with an entirely different world- one I couldn't have prepared myself for. 
My anxiety raged through my brain, thoughts of "what if" plaguing my head at night. I had to do something to relieve the blooming terror in my chest.
I began walking.
There were plenty of trails near my house, and I'd grab a mask and head out once school was over. I would take deep breaths once I was deep in the woods, letting the comfort of nature embrace me. 
I would expand my walk each time, discovering new trails and witnessing calming sights. The weather began to get warmer and my heart began to get lighter.
I entered May hiking almost six miles a day, my head cleared of the negativity and fear that once clouded it. 
With May came a fight for human rights and activism. I used my voice to show support of the Black Lives Matter movement, and made sure to do research on ways to help.
I began to educate myself more on world-wide issues, and found a new passion for politics. I wanted to make a change in the world, and continued to buy books and read to get a better understanding of the topic.
Summer came with new knowledge and a euphoric atmosphere. Lockdowns lightened, and I was able to see my friends again. The sun was out, bright and shining down on the earth.
I spent the three months of summer appreciating the beauty of the world. I took multiple trips to the beach, watching as the dark blue waves would splash onto the sand. I sat out at night to watch the sunset, clouds tainted a pink and orange color. I began journaling, wanting to jot down everything I saw.
I continued broadening my knowledge of the world, going on walks and opening up a book with information about activism. I established a strong sense of myself, one that was lacking at the beginning of the year.
With September came a new chapter in my life: senior year. 
While school was certainly different than what I was used to, I was able to tackle it head on. 
Adjusting to the new schedule and classes was a bit difficult for me, but I continued using the skills I developed over quarantine. 
Being in smaller classes had its benefits, and I began talking to people who I never spoke to before. I broadened my circle, and formed close friendships.
October came quickly, and I settled down on my search for college. I had established a major over the summer- political science. There were many possibilities with where to take this major, and use the strong passion for politics that I gained during my research the months prior. 
By mid-October I applied to multiple schools and kept my fingers crossed. I knew I had worked very hard throughout my high school career and would receive positive results. 
November came along with my 18th birthday. I entered adulthood in a world turned upside down, and felt a little lost on where to go. New responsibilities and stress were placed on me as I felt that sparkle of strength I worked on dwindling. 
Close friends came together to support me, including those who I made in the recent school year. I was filled with courage, and continued to work through the internal battle in my head. 
I began research of mindfulness, and the ability to strengthen self-compassion. I came to appreciate more things about myself that I never acknowledged before. I quit comparing myself to others and began to get rid of negativity in my life. 
I entered December stronger than ever, ready to get through all the obstacles the world threw at me. 
I received seven college acceptances, a huge feat that I was incredibly proud of myself for. I continued to work hard to keep my grades up high and I was pleased with my semester report card.
I completely changed from the timid, anxious person I was at the beginning of the year. I had a new sense of bravery and hope in me, and I wasn't afraid to put it to use.
New Years came almost too quickly, and I was left with my thoughts of the year.
Many people claimed that 2020 didn't live up their expectations and they were highly disappointed. However, I believe it exceeded expectations. The year was unforgettable and filled with valuable lessons. Despite the pain and misery the world faced, we were able to come together to form something truly beautiful; hope. 
I could see the light in people's eyes as they talked about the future, one where we can come together and embrace without the threat of getting sick. I hear people trip over the words in excitement as they talk about how fun concerts and events will be once COVID is over.
Many have formed unbreakable bonds with each other- I know I have. We learned to not take life for granted, and can find the beauty in small things.
While there were not the huge, extravagant parties that were promised, there was a sense of finding myself. 
I know I am not the only one who went through extensive character development and formed new lifestyle habits that will hopefully last a lifetime. I was able to explore who I truly was and break out of my shell.
I learned so much about myself and my interests. I was able to fight battles I thought would be impossible to win. I embraced myself, seeing the true light and beauty of who I was.
I know my grandfather was looking down on me as this happened, and I know he was proud.
2020 was the beginning of a new decade, and we still have a long way to go. However, I can see the sun shining ahead with a future that is filled with the promise of happiness.