Ronald's Rescue Fundraiser: A Piece of (Pan)Cake!
Hang on for a minute...we're trying to find some more stories you might like.
On Sunday, December 13th, the Padua charity organization, Ronald's Rescue, held their 5th annual Pancake Breakfast. All proceeds go to the local Ronald McDonald house. Ronald's Rescue was started during the 2012-2013 school year by Monica Twardowski '13 and Sam Scarpone '13. The two seniors, now juniors in college, went to Mr. Sheehan to ask him to be the teacher mentor for this organization. Mr. Sheehan was ecstatic and now says, "I was very happy they asked me to join the organization because I had a personal connection to the Ronald McDonald House Charity."
The smell of syrup and warm pancakes brought smiles to the hungry customers as they walked into Padua's Cafe. Three girls stood at the back of the Cafe greeting each family, couple, or friend that walked through the doors. A line of waitresses stood waiting near by, ready to take their next guest to a table. Once seated, the waitress would take the tickets given to the customers and exchange it for a plate of pancakes.
Brianna Lawson, one of the many girls who dropped by for a delicious breakfast,  is a cousin to one of the freshmen and was very excited for the pancake breakfast. She says, "It was very well organized and everyone was very friendly. The servers were kind when talking to us and no one looked like they didn't want to be there."
If you go to the pancake breakfast once, you're bound to come back next year. Brianna agrees saying, "I would definitely come back because it was a lot of fun. The friendly environment was welcoming and we could just talk and meet new people. The prices were reasonable and all the proceeds were going to a great cause."
This year, over $3800 was raised, about an $800 increase from last year's pancake breakfast. That's enough for someone to stay at the Ronald McDonald House for 250 nights. But there is always room for improvement, and Mr. Sheehan already has ideas. "We would like to add a direct service component to our organization. I would like us to be at the house within the next year giving service there."
It seems as if everyone enjoyed the pancake breakfast this year, and Mr. Sheehan agrees. He says, "We always expect a nice turnout for the pancake breakfast, but we never expected the support we got this year. We had amazing support this year from the whole Padua Community."

About the Writer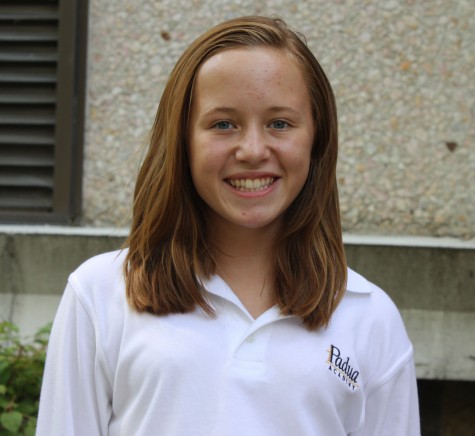 Cassidy M. '19, Reporter
     Cassidy M. '19 maybe a freshman in high school, but there are reasons to believe she could be a freshman in college.  "I have wanted to go...