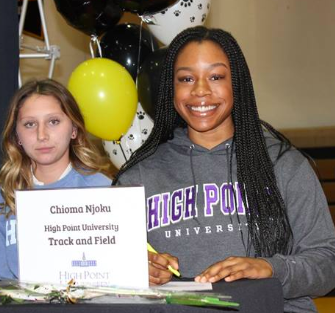 Samantha Scarpone
Chioma Njoku: Division I Athlete
University:
High Point University
Major:
Chemistry
Sport:
Track & Field
What made you want to play a sport in college?
"I knew I had the potential to improve and continue in a sport that I've grown to love so I figured I'd pursue it in college as well."
What would be a successful season for you?
"A successful season would be seeing growth in myself not only athletically but mentally."
Sports in college are a lot more competitive and time consuming than in high school, how do you plan on balancing it with school work?
"I plan on balancing the two by not procrastinating. I've learned from experience that it's much easier said than done but hopefully I stick to it this time!"
What are you looking forward to the most in college?
"I'm looking forward to becoming more independent and hopefully making new friends."