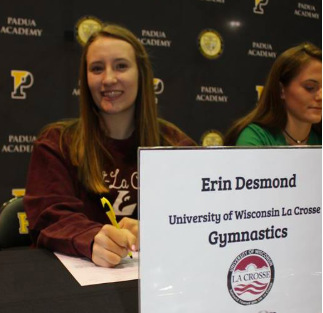 Samantha Scarpone
Erin Desmond: Division III Athlete
University:
University of Wisconsin-La Crosse
Major:
Exercise Science-Pre Physical Therapy
Sport:
Gymnastics
What made you want to play a sport in college?
"I have always wanted to do gymnastics in college and as I got older I knew that I had to work hard to get where I needed to be in order to be recruited."
What would be a successful season for you?
"A successful season for me would be one where I do not get injured and where I compete Vault, Beam, and Floor at all competitions."
Sports in college are a lot more competitive and time consuming than in high school, how do you plan on balancing it with school work?
Erin plans on balancing her school work and gymnastics by using her off time to go to the library or meet with other student athletes to study for tests and get homework done.
What are you looking forward to the most in college?
"I am most excited to be in a new place, a new atmosphere, and meet new people. I am really excited to be part of the Gymnastics team and I can't wait to be part of the Eagle Family."