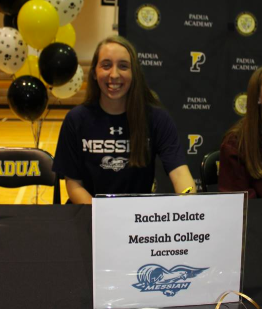 Samantha Scarpone
Rachel Delate: Division III Athlete
University:
Messiah College
Major:
Chemistry
Sport:
Lacrosse
What made you want to play a sport in college?
"The routine and competition, it's also something to keep me in shape after eating all the food in the cafe (haha)."
What would be a successful season for you?
"Doing my best, getting a starting spot, breaking in-season records, definitely winning a national championship."
Sports in college are a lot more competitive and time consuming than in high school, how do you plan on balancing it with school work?
"Division 3 has a goal for athletes to be student-athletes, so school work comes before athletics and that's how I plan on playing as a college athlete. My first goal is to get my degree, and then to have fun playing lacrosse while doing it!"
What are you looking forward to the most in college?
"I am looking forward to joining clubs and meeting new friends while developing my relationship with God."