Eva Kor Visits Padua, Shares Story of Forgiveness and Hope
November 27, 2018
Eva Kor, Auschwitz survivor and advocate, visited Padua on Nov. 19, 2018.
Kor and her sister Miriam were among the infamous Mengele twins: young children subjected to the dehumanizing and often deadly experiments conducted by Nazi Dr. Mengele. She had one objective: to walk out of the camp with her sister alive.
Eva Kor has done more than just survive.
She has since founded CANDLES Holocaust Museum & Education Center, continues to give lectures at age 85, and has publicly forgiven all Nazis.
Kor's message focused especially on the pain and isolation that young people can feel, and she urges students to heed her advice.
"There are only two ways to deal with that: Give up, nothing will happen. You can sit in the corner and feel sorry for yourself and nobody's going to care," she said. "Or decide that you are going to go after what you want to accomplish. It's not going to be easy, it never is. But if you do something, something will always happen. That is what I like to tell young people."
And that she did—to an audience of over 600 Padua students, faculty and staff, and members of the press.
BACKSTORY
Kor was born to a Jewish family in a small town in Transylvania in 1934. When Transylvania became part of Hungary, her family could no longer live in relative peace as the rights of Jewish people were gradually stripped away.
She knew what was happening. "I have a theory," she said, "that children as young as five years old… are a lot smarter than people think they are." Her family thought the Germans would never come to a tiny village like theirs. But at the age of 10, on March 15, 1944, she and her family were herded into a cattle car and told they were headed for a Hungarian labor camp.
Thus began a grueling three-day journey without provisions. There was no way out, and they received only drops of water in exchange for five gold watches. "Not enough to drink," she said. "Just enough to moisten my lips."
AUSCHWITZ
The final destination was not Hungary, however. The guards had lied—they crossed into German-controlled Poland, arriving eventually at the now infamous Auschwitz.
The separation platform where new arrivals were sorted—gas chamber to the left and hard labor to the right—was chaotic. "It was the most crazy place I have ever been to," said Kor. "People were crying, children looking for parents, parents looking for children, Nazis yelling orders, dogs barking—complete confusion." A Nazi spotted Eva and Miriam, identifying them as twins and separating them from the crowd. Kor saw her mother's arms outstretched as she was led to the left of the platform. She never saw her family again.
"I didn't really understand that this would be the last time I would see them," said Kor. "My whole family was gone."
The group of twins, 26 individuals, were stripped and tattooed. "I decided that when my turn came I was going to create confusion," she said, "and give them as much trouble as a 10-year-old could."
She became A-7063, and her sister A-7064.
The barracks in which they slept were "crawling with lice and rats." But when Kor saw the bodies of three young children on the latrine floor, she knew that surviving would be a full-time job.
"I made a silent pledge… that I would do anything and everything within my power to make sure that… somehow we would survive and walk out of this camp alive."
All odds were against their survival. "And yet, somehow," she said, "we had a deep determination to live one more day."
The experiments that followed were cruel and inhumane. She grew ill due to the injections, and Dr. Mengele told her she had two weeks to live, which she spitefully defied. "I must survive, I must survive," she told herself.
MOVING FORWARD
To this day, Kor does not know what she was injected with in what she called the "blood lab," but the effects were devastating. Her sister's kidneys were later determined to have never grown beyond the size of a 10-year-old's.
The war came to an end and both Eva and Miriam walked out of Auschwitz alive, returning to their home to find nothing but a few crumbling photographs. After time in school as a member of the Communist party, Kor moved to Israel where she met her husband, a survivor from Riga, Latvia living in Terre Haute, Indiana. She moved to Indiana with him in 1960, where she lives to this day.
Miriam's kidneys had failed by 1987. "I had two kidneys and one sister," said Kor. "I had an easy choice." Nevertheless, Miriam died in 1993 due to terminal health issues.
FORGIVENESS
The pain Kor felt was immense and overpowering. But when she forgave a Nazi doctor, Dr. Munch, her perspective on the world changed.
Kor met with Dr. Munch at his home in Germany. Munch had worked at Auschwitz while she was there, and she later went with him to Auschwitz itself. She originally forgave him as gratitude for his efforts to make amends, but came to realize that her decision was primarily for her own healing.
The next step was to forgive Dr. Mengele.
But with forgiveness, Kor realized, came a freedom. She had the power to forgive, something her perpetrators could never control.
"Forgive your worst enemy," she said. "It will heal your soul and set you free."
HOPE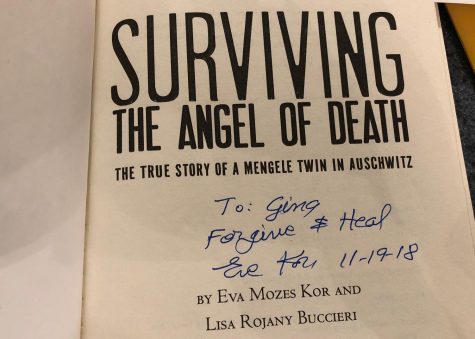 Inside each book Kor signed, she asked the student to "forgive and heal." The messages of forgiveness and healing were central to her talk, urging students to consider the power of an unshakable will to carry on.

"I can tell you that one of my darkest moments in my life was when I was between life and death. The Nazis wanted me dead and nobody wanted to help me," she said. "I was not giving up. I was going to survive that. Because if I say to myself, if I can survive two weeks… crawling on the barrack floor, I can survive any single life. And that is correct. So you use your successes as a point of strength."

"My message is not political whatsoever," she said. "I think it is a more spiritual than moral one. It is the ability of the person to overcome unbelievable difficulties surrounded by death and despair."

To hear the audio of Eva's interview please click below:

.