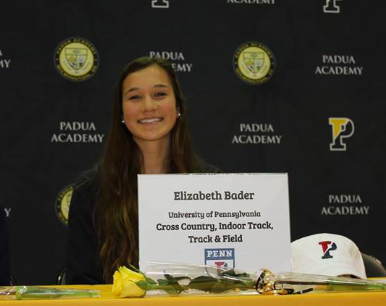 Samantha Scarpone
Elizabeth Bader: Division I Athlete
University:
University of Pennsylvania
Major:
Double Major of Biology and Nutritional Science
Sport:
Cross Country, Indoor Track & Field, and Track & Field
What made you want to play a sport in college?
"I genuinely love all aspects of running from the team bond, stress-relieving benefits, and devoting myself into something that teaches me the importance of work hard, perseverance, determination, and sacrifice. I simply could not imagine my life and daily routine without running, therefore, I am beyond grateful for the opportunity to continue it at a collegiate level."
What would be a successful season for you?
She said a successful season would be one in which she has improved through working hard and doing the best she can every day. "I would be happy to know that I contributed to the team in a positive and beneficial way!"
Sports in college are a lot more competitive and time consuming than in high school, how do you plan on balancing it with school work?
"I plan on trusting my good time management skills and dedication that I have learned to develop and improve throughout my life, especially at Padua."
What are you looking forward to the most in college?
"I'm looking forward to creating life-long, genuine relationships with a new team and creating endless memories and experiences with them!"